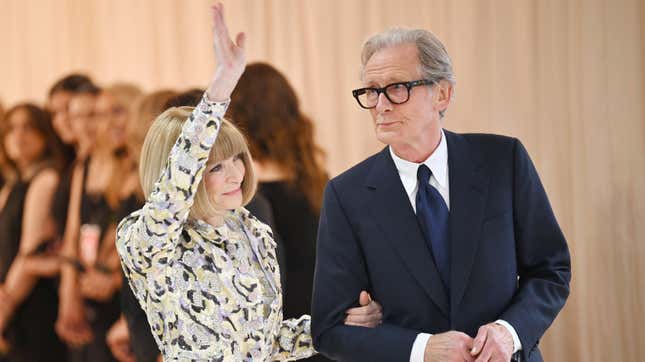 On Fashion's Biggest Night Out, the internet took note that Vogue's resident ice queen and hostess Anna Wintour certainly looked a few degrees warmer, courtesy of the man on her arm: none other than acclaimed actor, Bill Nighy. Indeed, not even all that opulence—I'm referencing the roach, of course—could distract us from a certain sunglasses-free glow of a historically Bad Woman™ and her hot (have y'all seen Notes On A Scandal?) date.
Betsy Wolfe Reveals the 'Most Embarrassing Thing That's Ever Happened' to Her on Stage
"Anna Wintour hard launching Bill Nighy at the Met Gala is such a flex. I love this pair sm?" wrote one user on Twitter. "She seems softer somehow," another concurred. If you asked Nighy, however, it was the hard launch of a supposedly softer celebrity sycophant that...well, wasn't.
On Tuesday, less than 24 hours since the pair walked the famed steps, Nighy's rep set the record straight to People: "Bill and Anna have simply been great friends for two decades. They are not in a relationship."
Notably, Ms. Wintour did not return their requests for comment, however, mere hours later, a "source close to Condé Nast chief" took a more cryptic stance via comment to Page Six: "We think last night speaks for itself." Intrigue! It doesn't stop there.
A separate source—reportedly from inside the lavish fundraiser—added that the not-couple were "so cute," while another made the following—some might say suspiciously keen—observation: "They are the new royal couple of fashion! Look at their body language—I have never seen Anna like that before….even when she was with Shelby (Bryan, her former partner), he would always stand behind her."
Upon closer examination, the latter source isn't wrong. Wintour did, in fact, look pretty miserable—more so than usual—with her ex-husband. Per the Daily Mail in 2020, Wintour grew as bored with Bryan, "just as she gets bored with the length of skirts." Say no more!
Suspicion surrounding Wintour and Nighy's relationship has mounted for years. In 2021, the actor was even spotted presenting her with a red rose on what very much appears to be a romantic dinner date in Rome. It's quite likely that Nighy is simply trying to maintain their privacy by denying a romance. But personally, I like to giggle at the notion of one of the most powerful women in fashion simping for an elderly British man.