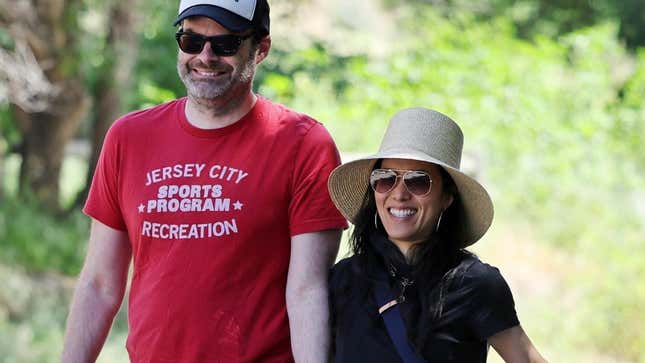 Earlier this week, varying tabloids reported that comedians Ali Wong and Bill Hader are back on, months after quietly dating and quietly splitting. And on Thursday, we received the first proof of life of their apparently rekindled romance: paparazzi photos of the couple engaged in heavy PDA while on a walk near Wong's house in Los Angeles, ostensibly celebrating her 41st birthday. In matching hiking gear, the two held hands, kissed, and generally put on a show for the cameras. Notably, during the first iteration of their relationship, the two didn't share so much as one photo together, nor was there any real evidence they even knew each other.

Jennifer Hudson Achieves EGOT Status, is True American Idol
Look, I'm happy for them, truly! They're a totally believable couple—I imagine they make a lot of jokes and have a great time together. But a more cynical part of me wonders about the timing of all of this, especially given how private the two were, the first time around. Hader, of course, has a new season of his hit show Barry to promote; and Wong is seemingly trying to divert attention from her recent show, Beef, a dark dramedy that's recently faced some controversy over past comments from one of the show's stars. (Wong stars in and serves as an executive producer of the show.)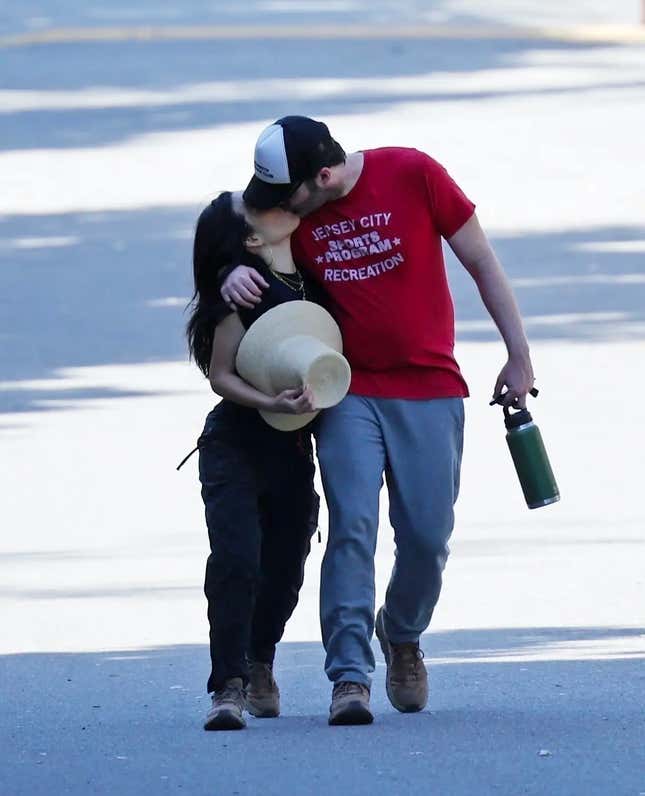 As Jezebel's Audra Heinrichs laid out earlier this week, the Internet has (as it tends to do) resurfaced comments from David Choe—who stars in Wong's hit Netflix series and is a friend of hers—describing sexually assaulting a masseuse at a parlor in a 2014 episode of his old podcast, DVDASA. The comments are fairly disturbing: Choe essentially describes forcing a masseuse to perform oral sex on him against her will.

As clips of his comments have recirculated on social media over the last several weeks due to Beef's rising popularity on Netflix, reports show Choe personally had the clips taken down on Twitter by citing copyright infringement. Previously, in 2014 and again in 2017, he's tried to claim the comments were made as a joke, though I'm not sure who's supposed to find them funny.
Meanwhile, no one working on the show, nor any spokesperson for Netflix, has addressed Choe's comments and the rightful outrage they've sparked. Wong has seemingly responded by putting her Twitter account on private this week and locking comments on her Instagram—in other words, she seems fairly well aware of the controversy her show has attracted. And by not responding, locking her social media, and very publicly reigniting things with Hader, she… sort of is responding!?
The last time the two were together, a source characterized their relationship as very low-key, claiming "only a small circle of A-list comedians know and everyone was thrilled about it." The source said Wong and Hader's friends "helped them protect the relationship in light of Ali's divorce," shortly after Wong separated from her ex-husband, Justin Hakuta, last year. So, I can't help but be suspicious about the couple's motives for all of a sudden letting their PDA flag fly.
Sure, it's entirely possible I'm reading too much into things here. But the radio silence from Wong, her Beef co-star and co-executive producer Steven Yeun, and Netflix on Choe's comments is really only making the situation worse for them. I'm left raising my eyebrows at conveniently timed photos of Wong having a jolly good time with Hader, because all of this, frankly, seems like a too-perfect, scripted distraction from some pretty nasty stuff that Wong doesn't want to address.