The Chronicles of Beyoncé and Jay Z's Rich People Leisure Activities continues. The couple, Blue Ivy and a small entourage have been spending their enormous supply of money on a luxury jaunt through Southeast Asia and now we have the not at all instant Instagrams to admire.
When the Carters vacation, the ever-loyal and mind-boggingly resourceful Beyhive tends to do an excellent job of tracking their whereabouts through creeper shots, stealth video and the occasional fan photo. However, everyone knows that the real goods come when Beyoncé finally decides to share her vacation photos with the world.
Generally, she like to have some lag time between actually going on vacation and posting her photos to Instagram, for reasons that I'm guessing include time for photo editing and making sure that crazed fans do not immediately book international flights in hopes of meeting her.
Well the time has arrived. Savor these delicate tastes of paradise from lens of Beyoncé.
G/O Media may get a commission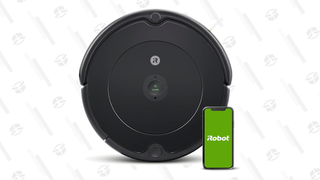 35% Off Black Friday Deal
iRobot Roomba 694 Robot Vacuum
Beyoncé captioned this image: "Peace Cambodia," which I assume was meant to include a comma, so as to be a salutation.
I wonder if Beyoncé likes to document the rare occasions when a group of people legitimately have no idea who she is. Perhaps the annoyed looks on the faces of these young men are meant to be a mediation on the way she feels when her privacy is invaded by paparazzi.
This photo included the simple caption of a bee emoji—a reference to both the Beyhive and her nickname. The jury is still out on whether or not Beyoncé is now the official true princess of Thailand. In the meantime, she seems to be scouring other locations in Southeast Asia for potential residences and vacation palaces. Needless to say, this one is in a great location, but it's clearly a fixer-upper.
Do you think maybe this reminded Beyoncé of of her Destiny's Child days?
Blue Ivy is in this photo somewhere (maybe). Can you spot her?
Images like this make me believe that Beyoncé texts Annie Leibovitz for photo composition tips. Originally, this photo likely included much more of the sky and trees, but Beyoncé and Annie decided to move the camera down slightly so as to capture more of the sand. The result shows how grounded—both literally and figuratively—these young men are and how grounded Beyoncé herself is for capturing this a moment.
Thanks for the journey, Bey. Next time please include more pictures of Blue Ivy being adorable. I'll wait.