Today on The View, Bethenny Frankel spoke about tonight's RHONYC reunion and when asked about falling out with her former friend Jill Zarin, Bethenny said it had to do with acrimony surrounding getting her own show (Bethenny Getting Married?).
On Real Housewives, the feud between Bethenny and Jill never really made much sense, as it was depicted as Bethenny telling Jill to "get a hobby," and Jill taking that as an unforgivable offense. However, today on The View, Bethenny told the co-hosts that the impetus to Hobby Gate was that Jill was asking the other Housewives cast members to not film with Bethenny after she learned that Bethenny was getting her own spinoff. That seems a lot more plausible. Bethenny also said that if the cast remains the same, she probably wouldn't return for another season.
As for Jill, she's been doing some pre-reunion damage control in the press today, after coming off rather poorly this season. Although she denies the accusations that she's been somewhat of a "mean girl," she says that she doesn't fight with people, telling The Advocate:
It's funny because when I said to Bethenny, "We're done," I didn't really mean we're done, I just meant we're done right now. It's just an expression; we all have our little idiosyncrasies. I just don't handle stress well. I don't fight with people.
She sounds almost as out-of-touch as Kelly. Speaking of which, The Advocate asked Jill about her take on Kelly's meltdown episode, and her answer is very telling, in that her answer involves three words about Kelly and then a tangent about herself:
She's completely recovered. I wasn't in St. John as a witness, but [the women ganged up] on me. It was mean girls, it was high school. There was no reason to ask me to leave [the house in St. John]. I was there with an open heart and to make peace. It was ridiculous that Ramona said if I had only walked in a different way [it would have been better]. I walked in and said how everything was beautiful. What else could I have said to make it better? That was their reaction to bad behavior. They tried to defend the fact that they threw me out and had good reason - they had no good reason. I didn't throw Simon out when he came to my home, when I first met them and he crashed my dinner party. I didn't throw him out at Saks Fifth Avenue when he was the only man to show up; my husband wasn't even there. It was a woman's event, but he thought he would make drama by showing up and it would be part of the show. I wouldn't do that; I'm an inclusive person. They have their motives, but you'd have to ask them what they were.

The way I handle things is I don't want to deal with them. So I run away.
As for whether or not she will return for another season, she told People, "They haven't asked me back, so I don't think I have to worry about that yet."
G/O Media may get a commission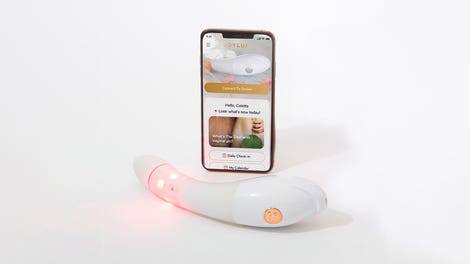 $50 Off
Joylux vFit Gold Device
NYC Housewife Jill Zarin: 'I'm Not a Mean Girl!' [People]
Housewife Jill on the Reunion and Jersey Girls [The Advocate]