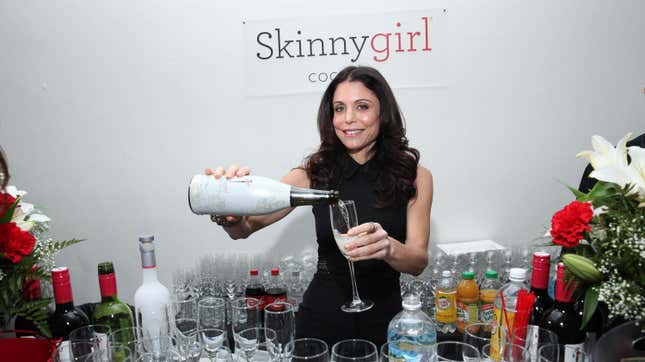 The Earth is round, the Pope is Catholic, and Gwyneth Paltrow is broadcasting an ultra low-calorie diet that dietitians are skeptical of. On the podcast The Art of Being Well earlier this week, Paltrow shared that when she isn't intermittently fasting, her main food groups are bone broth and vegetables, a diet probably not recommended for anyone who has any, like, tasks to do. And as is the case with almost every single thing Paltrow does, there's been backlash and warnings to not heed her goopy advice.
But before the natural cycle of Paltrow discourse could recede back into the sea, the founder of Skinny Girl Margarita, Bethenny Frankel, decided to cannonball into the conversation via Instagram. Performatively holding a tub of ice cream with one scoop eaten out of it, Frankel declared that at this point we should all know Paltrow's "schtick" as a health and wellness snake-oil salesman. Which isn't incorrect! "This is the woman who does cupping and ozone therapy up the ass," Frankel said. "You can't expect a dog to be a cat." OK, the comedic claws are out!
It's a classic "why is everyone talking about this?" rant, a charge that is then drawn-out by deciding to talk about it more. (I'd say this is spiritually inverse to the "no one is talking about this" complaint followed by a link to a major news publication's coverage of said topic.) But Frankel veers into the deeply dubious when she explains that she doesn't think Paltrow's behavior promotes disordered eating because her fan base isn't teenage girls.
"Her base is middle aged moms," she says. "My daughter doesn't know who Gwyneth Paltrow is," therefore, "when people are talking about eating disorders" what kind of threat is there really?? Though I'm not surprised at the fact, I appreciate the dig that her 12-year-old isn't a Goop loyalist. But, more seriously, Frankel clearly has a very surface level understanding of how disordered eating works and who is susceptible to it. Anyone with an "almond mom" (or who's seen them discussed on TikTok) knows that obsessive dieting is not limited to your teens.
"We're waiting on the 'my vagina smells like bone broth' product," Frankel concluded. Can't say I am, but appreciate the joke.
---