Just like Jodie Foster used her Cecil B. DeMille award speech as an opportunity to come out as, er, single, 18-year-old Jacob Rudolph used his "Class Actor" award speech to come out as LGBT.
The senior said the following in front of his entire class of 300 students and teachers at the Parsippany High School in New Jersey:
"So, I would, uh like to thank everyone for voting me Class Actor. Sure, I've been in a few plays and musicals, but more importantly, I've been acting every single day of my life. You see, I've been acting as someone I'm not. You see me acting the part of 'straight' Jacob, when I am in fact LGBT.... So take me, leave me or move me out of the way, because I am what I am, and that's how I'm going to act from now on."
As you can see, the audience didn't move anyone anywhere; they just stood up to applaud and scream (approvingly).
Rudolph's parents were shocked by the reaction. His mother Laura said, "My husband and I were still sitting and it took us a moment to register the positive response. It was a great relief and it feels so good that these kids are changing and becoming so much more accepting." Jacob's father Jonathan said that what his son did, "took more guts to do than anything I've ever attempted in my life." Laura Rudolph is aware that not every coming out speech is so well received and urges parents to instill acceptance into their children: "Whether it's race, religion, or sexual orientation, it's parents' responsibility to teach tolerance and complete acceptance because that's the mentality our kids will grow up with... It will trigger a domino effect for how things will change."
G/O Media may get a commission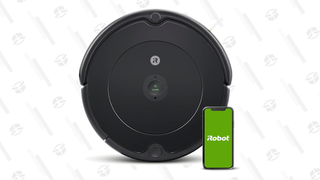 35% Off Black Friday Deal
iRobot Roomba 694 Robot Vacuum
Can somebody grab me a tissue?