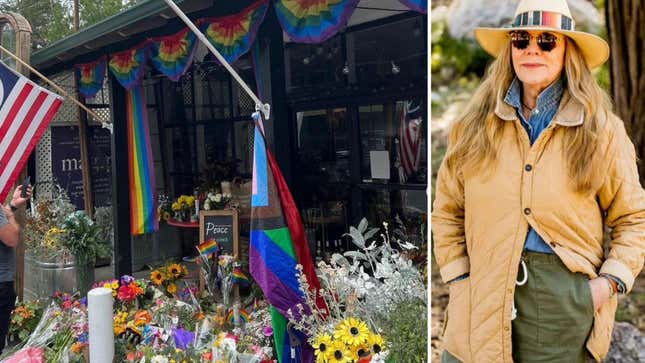 Over the weekend, Laura Ann Carleton, owner of Mag.Pi clothing store in Cedar Glen, California, was fatally shot after a patron confronted her about an LGBTQ+ Pride flag hanging at the shop's entrance.
On Friday, a 27-year-old man "made several disparaging remarks about a rainbow flag that stood outside the store before shooting Carlton," per a statement from the San Bernardino County Sheriff's Department. (Carleton's friends say he also tore down the flag, though that detail wasn't in the official police report.) Carleton then tried to defend her flags outside of her shop, and the man shot her dead. The unnamed perpetrator then fled the premises but was soon located by law enforcement, who fatally shot him in a confrontation.
Carleton, whom friends and locals familiar with the shop remember as a beloved ally to the LGBTQ+ community, was pronounced dead at the scene. She leaves behind a husband and nine children. In a phone interview with the New York Times, Carleton's daughter, Ari Carleton, called her mother "fearless" and "a pillar in the community," noting that earlier this year, she'd converted the shop into a makeshift relief center after a severe blizzard.
"She opened up a free shop where she and my dad just gave out supplies to those in need who had been impacted by the storms," Carleton recalled. "That really sums up who she was as a person."
Several tributes to her life and legacy—including some written by Bridesmaids director Paul Feig and comedian Bridget Everett—have been shared on social media since her senseless murder. "Lauri Carleton was shot and killed at her Lake Arrowhead store this weekend," Everett wrote on Instagram. "Someone tore down the Pride flag she flew outside of her store, Magpi. She confronted him and he shot her. In the past, when someone took down her flag or vandalized it, she'd put up another one. The last time I saw Lauri was, oddly enough, at Lake Arrowhead pride both in the parade and then at a party. All that anti-LGBTQ rhetoric has a price. And now, Lauri's husband Bort, her daughters, friends and community are devastated. And for what?"
Feig echoed: "Anyone using hateful language against the LGBTQ+ community has to realize their words matter, that their words can inspire violence against innocent loving people. Let's all keep moving forward with tolerance and love. Let's not let Lauri's tragic death be in vain."
Carleton's murder is just the latest in a disturbing pattern of anti-LGBTQ violence. According to a GLAAD report, at least 145 similar incidents nationwide were recorded during Pride month in 2023, alone. They included 102 reports of harassment, 37 reports of vandalism, and six reports of assault. Just weeks ago, O'Shae Sibley, an openly queer professional dancer, was murdered in Brooklyn after voguing at a gas station.
"This disgusting hate has no place in CA," Governor Gavin Newsom (D) tweeted of Carleton's murder on Sunday night.