The latest edition of T Magazine features a stunning Michelle Obama on the cover, accompanied by four "love letters." The letters, written by Chimamanda Ngozi Adichie, Jon Meacham, Gloria Steinem, and Rashida Jones, pay testament to Obama's historic tenure as First Lady, examining the particular pressures that she faced, as well as the race-based criticism that haunted her throughout her time in the White House.

Adichie's letter is particularly compelling. She writes:
Because [Obama] said what she thought, and because she smiled only when she felt like smiling, and not constantly and vacuously, America's cheapest caricature was cast on her: the Angry Black Woman. Women, in general, are not permitted anger — but from black American women, there is an added expectation of interminable gratitude, the closer to groveling the better, as though their citizenship is a phenomenon that they cannot take for granted.
Adichie traces the First Lady's style as a reflection of her authenticity, a "wear what you like," attitude that is part and parcel of what's ultimately so compelling about Obama, what Adichie describes as her "full female selfhood." It's a framing of Obama echoed in Rashida Jones's letter which, like Adichie's, is as much a love letter to a flesh-and-blood woman as it is to the often complicated and contradictory metaphors of gender Obama embraced. T Magazine's photoshoot seems to capture that aspect of Obama, that mixture of stylishness and strength that has defined her tenure in the White House.
Jones writes:
All women struggle to reconcile the different people that we are at all times, to merge our conflicting desires, to represent ourselves honestly and feel good about the inherent contradictions. But Michelle manages to do this with poise, regardless of the scrutiny.
G/O Media may get a commission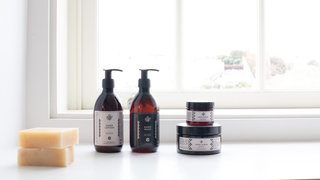 Exfoliate and Hydrate
The Handmade Soap Company
Scrutiny undoubtedly followed Obama, no doubt much of it stemmed from the reasons identified by Adichie. On the campaign trail, Obama was criticized as unpatriotic and, as First Lady, her fashion choices were endlessly criticized. It was practically a national scandal when she dared to wear "inappropriate" shorts and similarly she was compared to Marie Antoinette for wearing designer clothes.
And yet despite the endless attempts to discredit Michelle Obama, she's become one of the clearest voices in American politics. From her speech at this summer's Democratic National Convention to her speech last week addressing the sexual assault allegations against Donald Trump, Obama's voice is powerful and, as Adichie writes, "genuine":
She was genuine. All over America, black women were still, their eyes watching a form of God, because she represented their image writ large in the world.
The letters are worth reading in full. The letter/photo combination is a compelling look at Obama and her legacy. And frankly, she looks absolutely wonderful.