Actress Bea Arthur passed away on April 25, at the age of 86, from cancer. While she personally didn't identify as feminist, her career made an enormous impact on the women's movement.
Because America is both a melting pot and a fairly young country, our shared culture is pop culture; we are influenced, informed, and ultimately reflected by television, movies, music, books, etc. And Bea Arthur's work on both stage and screen was defined by much more than her deep voice and deadpan delivery. It played an important part in our social change.
1.) Maude
The Tony and Emmy-winning actress worked in show business for most of her adult life, but it wasn't until she was 50 that she really made it big — in what she refers to as her "middle-aged Cinderella story" — starring in Maude (a spin-off of All in the Family) that ran from 1972 - 1978. In the title role of Maude Findlay, Arthur played an outspoken liberal feminist and civil rights activist, and the show was far ahead of its time, addressing topics of menopause, alcoholism, plastic surgery, and most notably, abortion.
During the first season, in a two-part episode titled "Maude's Dilemma," 47-year-old Maude discovers that she's pregnant. She and her husband and her adult daughter (Adrienne Barbeau) weigh her options, and ultimately, Maude terminates the pregnancy — a first for network TV. Although abortion was legalized in New York, where Maude was set, the episodes were broadcast in November 1972, two months before Roe v. Wade was decided. Two CBS affiliates refused to broadcast the program. Here's a clip:
Although Arthur enjoyed the role she played, she didn't enjoy another—that of a champion of the women's movement—thrust upon her, saying in a 2001 interview, "They just assumed I was the Joan of Arc of the women's movement. And I wasn't at all. It put a lot of unnecessary pressure on me."
G/O Media may get a commission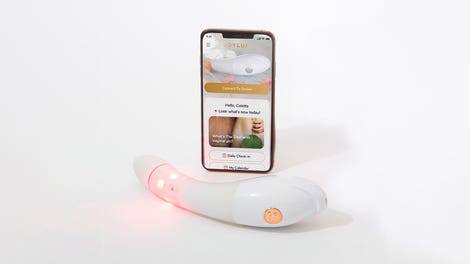 $50 Off
Joylux vFit Gold Device
Later in life, however, Arthur adopted some of the language of feminism when discussing the breakup of her second marriage, which she blamed on her dedication to her career. "I don't think I ever truly believed in marriage anyway. I guess marriage means that you're a woman and not a . . . person."
She elaborates on that — and the social importance of Maude — here, in this interview for The Archive of American Television.
2.) Sex and the Single Senior
Playing Dorothy Zbornak in the hit sitcom Golden Girls (which ran from 1985 - 1992), Arthur, and her costars Rue McClanahan, Estelle Getty, and Betty White, achieved on prime time TV what seemed to be the impossible: Showcasing post-menopausal women as trendy, funny, and sexual. Way before Sex and the City was lauded for its portrayal of strong female friendships and the discussion of shopping-bag swinger lifestyles over brunch in NYC, Dorothy, Sophia, Blanche, and Rose talked about their very active sex lives over plates of cheesecake in Miami. In this clip, the girls go out to buy condoms to prepare for a romantic cruise they're about to embark on with their boyfriends:
All four actresses on the show won Emmys for their roles, making it the first time since All in the Family that a sitcom had an entirely award-winning cast. (You can read an oral history of Golden Girls here.)
Of her role on the show, Arthur said, "It's very nice to have women realize that women our age can be attractive and well groomed and wear fabulous clothes and earrings, and have a sex life." Interestingly, when GG first premiered, Dorothy was about the age of Kim Cattrall in the SATC movie.
3.) Breaking the Mold
Having reached the crest of her career in middle age, and being 5'9, with a baritone voice, Arthur was not exactly the ingenue. With her trademark, cutting one-liners, Arthur was way too salty for the sugar-and-spice female stereotype. Instead of fighting the aging process cosmetically, she used it to get a laugh and earn a buck, as seen in this Golden Girls clip.
She carried the same attitude later on in her career, as well, as seen in the TV Land show Back to the Grind in 2007. (Clip below.)
4.) Gay Icon
In addition to her work as an animal rights activist, Arthur involved herself in AIDS awareness, speaking at many events. (She once said, "Of course I have gay friends — doesn't everybody?" and when lesbian rumors surfaced, she responded, "I think it is because of the voice, but who cares?") Episodes of Golden Girls and Maude both addressed the subject of homosexuality, but this '70s performance, featuring Arthur singing about drugs with her friend Rock Hudson, stands out the most.
5.) Ribald and Refined
While a lot of the humor on Golden Girls was assuredly bawdy, Arthur pushed the envelope for a joke in real life, too. We leave you with her dramatic reading from Pamela Anderson's novel Star Struck, regarding anal sex.
Cheers To 'Maude' Bea Arthur [NPR]
Here's Looking At You, Bea Arthur [USA Today]
Beatrice Arthur: A Towering Comedic Talent From Another Era [LA Times]
'Golden Girls': A 20th Anniversary Oral History [EW]
Earlier: Bea Arthur: Golden Bitch
Bea Arthur Does Carrie Bradshaw In Old Lady Version Of Sex And The City