You might remember (or rather, you might have struggled to forget) "Fearless Girl," a 50-inch bronze statue of a girl, hands on her hips, skirt blowing in the imagined, perpetual wind, installed the day before this past International Women's Day on Wall Street, staring down that same street's iconic bull.

"Look at that metal girl," the internet gasped. "Look how fearless she is in the face of an also-metal bull; neither of them have a brain or real kind of body and yet still I am full of awe."
G/O Media may get a commission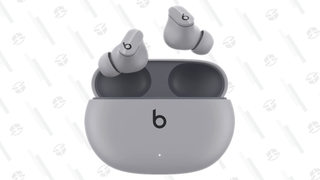 Fearless Girl became iconic of a particular brand of extremely broad, commercialized feminism—one that doesn't care about action as much as it cares about signaling that the social media user is hip to the conversation and sympathetic to the Right causes. This connotation was solidified, boringly, when it came out in October that State Street, the financial services firm that had installed the statue would pay $5 million to settle claims that it paid over 300 top women employees less than it did men in the same positions.
This little symbol wasn't the only venture with less-than-pure motives to employ the idea—now cliché—of the "fearless woman." In fact, it has been hard to avoid it. This year, website Refinery 29 used the word "fearless" with seeming abandon—a participant in a smoothie challenge, a body positivity advocate, a quest for a nose stud, Gordon Ramsay, and, perplexingly, a fictional character's nihilism. The Showtime show SMILF about a single mother used the advertising tagline, "Functional sometimes. Fearless always." Forbes published a list of "Fearless female founders to follow in 2018." Adidas launched their "Fearless AF" campaign meant to shine a light on "badass" (yet another meaningless word) female runners. Fabletics, Kate Hudson's athleisure brand, also has a "Fearless" campaign from earlier. So does Victoria's Secret, as well as a collection of similarly-named lip glosses and perfumes. Deodorant can also allegedly help women feel fearless, so can shoes, and this planner. Columbia Journalism Review even referenced Jezebel's "fearless feminist reporting."
But anyone who has actually been paying attention in 2017 knows that it hasn't been the year of the fearless woman—for many of us, it's been a year of constant, unchecked anxiety and an honest assessment of the state of Americans would have similar findings.
NBC News reports that college students are more anxious and depressed than ever; A Centers for Disease Control and Prevention study found that the number of Americans with serious psychological distress has also risen to 8.3 million. Washington Post columnist Dana Milbank writes about an upcoming paper in the journal "Psychoanalytic Perspectives" that deals specifically, if anecdotally, with the spike in psychological distress since the election:
"Since the start of Trump's rise to power," Aibel writes, analysts "have become acutely attuned to traumatic arousals" in patients from the political environment. "Several colleagues have shared that many formerly eating disordered patients were retriggered to bulimic episodes that hadn't occurred in many years until Trump's candidacy. . . . In the run-up to the election, mental health providers of all stripes were reporting 'a striking number of anxious and depressed clients who are fixated on the election, primarily fearful of Trump.' Since Election Day, such colloquialisms as Trump Slump, Trump Anxiety and Trump Affective Disorder achieved cultural and perhaps even clinical currency (in an informally diagnostic sense, of course) along with increases in reported incidents of bullying" and the like.

Since Donald Trump assumed office in January, women, people of color, immigrants, and other marginalized communities have experienced an unabaited assault on our rights—to healthcare, to government assistance, to free speech, to bodily autonomy, to remain in our home country, to have nonviolent interactions with law enforcement. In their jobs, they have continued to be afraid of speaking out against misconduct, hostile environments, and pay disparity. After decades of polluting and over-extracting natural resources, our planet is literally on the brink of swallowing us up and becoming a desolate space marble. Meanwhile, we could be nuked out of existence for no greater reason that Trump had a stuck fart for six hours and felt like doing something major.

But this year, that real, material fear has been co-opted and rebranded, so that when we look to the media—our society's beautifully warped mirror that makes us look at once more beautiful and more hideous—we see a badass fearless kween. She's just like us, but speaks only in slogans.
---
In mid-November, I attended Glamour's Women of the Year Live Summit at the Brooklyn Museum, a day of highly-choreographed speeches and panels on subjects as broad and wide-ranging as persistence, being a "boss woman," and spending your life in service. It functioned as a kind of epicenter of the brand-sanctioned feminist conversation.
The speakers were mostly wonderfully curated, and included Chelsea Clinton and Laverne Cox, Katy Tur, Withelma "T" Ortiz Walker Pettigrew, HBO Documentary chief Sheila Nevins, and the perpetually delightful actress Tracee Ellis Ross. The morning sessions breezed by rather uneventfully—I was reminded of the importance of not giving up; I pumped my fist for journalists who speak truth to our horrible powers. I was reminded that boards with women on them are good for the bottom line, the bottom line, the bottom line.
Throughout the day, though, I began to notice branding—from the specific water bottles left at our seats, to Thinx hashtags pasted on every available surface. I remembered that the CEO of Aerie, a brand doing good things to promote positive body image, had made short speeches at the breakfast and again later to reveal the company's next #AerieREAL Role Model (Olympic gymnast Aly Raisman). Barbie revealed a new Barbie. Wonderful achievements and real boundary-breaking work was being simultaneously supported and diluted by brands.
Nowhere was the uneasy juxtaposition between pop commercial feminism and actual brutal hardship more evident than in the rough succession of model and body positivity activist Ashley Graham sharing her personal affirmations with the room ("You are bold; You are brilliant; You are beautiful,") and requesting that two audience members do the same; to Barbara Pierce Bush and Jenna Bush Hager promoting their book Sisters First and telling a Wacky story about the time they had dinner with Vladimir Putin; to an interview with Nadia Murad, a Yazidi woman who had escaped after being kidnapped by ISIS and held as a sex slave. Murad's concerns—security when she ultimately returns to her home, holding terrorists accountable for decimating her town and killing her entire family—were of a caliber that the summit was sharply unable to accommodate.

While we ate lunch (served to us in boxes proclaiming, "Leaders Who Lunch"), poet Cleo Wade interviewed Diane von Furstenberg. It was a perfectly inoffensive conversation—lunchtime fare—until Wade conducted a brief poll. "Who here is more scared than excited?" she asked, presumably about the current moment. A few hands raised (as did my own, in my heart). A tepid response. "Who's more excited than scared?!" she followed up, significantly more enthusiastically. A majority of the room raised their hands, some letting out a few whoops.
I get it! (Sort of.) It's easy to be swept up with the spirit of a highly-produced day of feel-good feminism-adjacent programming. If Diane von Furstenberg, or any Good Celebrity, really, held me gently by the elbows and requested that I whoop with fabricated optimism, I certainly would. And, for sure, it's good to occasionally escape the sludgy cloud of real political fear every once in awhile for the sake of something that feels like concrete action, or hope. Or even for something that doesn't—the simple motivational mantras I slurp up every day from the various fitness personalities I follow on Instagram don't offer any sort of salvation beyond the temporary, superficial relief of not thinking about being nuked for 12 seconds.
And plus, brands have no interest in perpetuating that doom and gloom narrative, which makes the idea of material consumption either highly unappealing or compulsive-seeming. We shouldn't be thinking about being pulverized while buying a fun top.
Beyond that, though, the trope of "fearlessness" makes the experience of being a woman or marginalized group more palatable to those in power, creating the illusion that these people—you people—can handle it. There is also a distinct power gap in who gets called fearless versus who actually gets to be fearless—a state unattainable for most, save the rare patient with a shriveled up amygdala and "behaviourally disordered" children. For the most part, the women present at the Glamour Women of the Year summit had that power—they were largely economically advantaged, living in New York, with a job or social connections that gave them access to the event. 
But the real heroes who were at the event—Nadia Murad, Withelma "T" Ortiz Walker Pettigrew, Laverne Cox, and Gabrielle Giffords—would likely testify that real activism doesn't come from the absence of stakes that necessitate fearlessness; it comes from feeling afraid and doing the thing anyway.