The scene above is probably the most bizarre slice of supposed vérité pop culture that I've seen this year. If we are to believe Barbra Streisand's new concert special that lands on Netflix today, Barbra: The Music, The Mem'ries, The Magic, she's the kind of person who gets on the horn during the middle of a set and orders her own stone crab.
"I'm in between acts, Charlie," she says to the guy answering the phone at Joe's Stone Crab in Miami. "But I want to make sure you got my order for after the show." She delivers this with such coolness it's as though she doesn't have assistants to take care of this, legendary stage fright to manage, or fabulousness to luxuriate in. An icon with a mall in her basement who uses "spa" as a verb, Barbra Streisand shouldn't have a care in the world, but there she is, supposedly double-checking her stone crab order in what is at least a partially (if not entirely) staged scene (why is there a camera in the stone crab joint, anyway?).
I suppose the inclusion of this scene is intended to show us that Barbra Streisand does normal human things, but it's ultimately another indication of Streisand's eccentricity in a special that is teeming with it. Streisand can't not be herself—her public persona, that is, which comes off as matter-of-factly godlike and witty—and given the adoration, fame, and wealth being herself has delivered, why should she be anything else?
If you want Barbra, Barbra will give you Barbra throughout this concert, which was taped last December in Miami and is organized around songs from each of her ten No. 1 albums (when she announces she has that many summit-reaching records under her belt, the audience cheers and she responds, "It's okay, didn't mean to have applause there, but it's just a fact!"). Her stage is outfitted with a chair she occasionally rests on, and a table with a tea service and some roses in a vase.
Over the course of her show, Streisand tells many a dad joke. She refers to the beginning of her career when "a tweet was a what a bird did and the only people who had cell numbers were in jail." She reflects on working with Hugh Jackman on her most recent album, Encore: Movie Partners Sing Broadway: "I got to sing with Wolverine. I thought I had long nails, ya know?" Before "Jingle Bells?," which reminds us that Streisand was dexterously spitting triplets about a half-century before Migos, she talks about how the perception of Santa Claus has changed: "Santa doesn't ride a sleigh anymore, ya know, he takes an Uber. Kids don't write him letters, ya know, they just text him." Ho, ho, ho, Barbra.
G/O Media may get a commission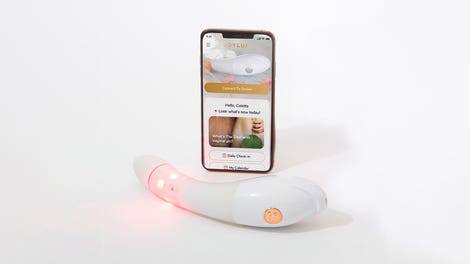 $50 Off
Joylux vFit Gold Device
Sometimes the stories that precede each song bridge seamlessly in an extremely Broadway way: She recalls a study she read that found that everyone's DNA is 99.9 percent identical to every other person on earth. "We are so alike, every one of us," she remarks. "So it's simply a fact that we're all really just…" And then she sings "...People." At the end of the show, after leaving the stage she comes back out holding her beloved Coton de Tuléar, Sammie, who died a few months after this show was filmed. She bows holding the dog.
Everything you'd expect to hear from Barbra is here—"Evergreen," "The Way We Were," "You Don't Bring Me Flowers," "Papa Can You Hear Me." There's nothing much surprising in the arrangements or staging. Barbra's voice has lowered slightly over the years and is otherwise less lithe than it once was, but it hardly sounds like it's been going as hard as it has for some six decades. But that infinitesimal lack of the sublime perfection Barbra is known for is key, as it's perhaps the greatest indication of her humanity in a special that makes an ostentatious, rather dubious show of it. Funny how that works.
And, spoiler alert: The final scenes of this movie feature Barbra eating the crab. She makes it look so chic.