I am just gonna say it: The onscreen/offscreen badassness of Mariska Hargitay/Det. Olivia Benson rivals that of Connie Britton/Tami Taylor. Come at me, bro.
Ana Gasteyer Satirizes the Girl Boss in 'American Auto'
Mariska was overheard explaining to dinner companions the concept of her upcoming documentary, which has a producer but is searching for a director:
"There are hundreds of thousands of untested rape kits in police and crime- lab storage facilities. Every year, thousands of individuals take the courageous step of reporting their rape to the police . . . The evidence is then collected in a 'Sexual Assault Evidence Collection Kit' — a rape kit . . . And yet, hundreds of thousands of times, a decision is made not to process the evidence. Too difficult to prosecute, too murky, too expensive — not a priority."

"When you don't test a rape kit, it sends the message that's it's not a serious crime, and I'm beyond outraged."
ICYMI, there are LOTS of A+ SVUs about this, but that one with Jennifer Love Hewitt was especially heinous. [Page Six]
---
G/O Media may get a commission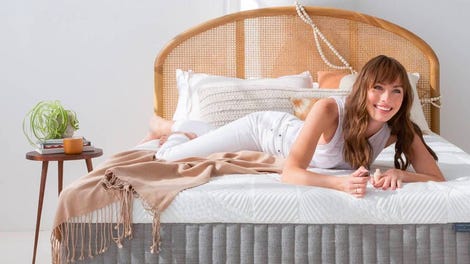 Sleep Sale
Sleep Sale - Brentwood Home
During a London stand-up show, Russell Brand made a joke about how boring having sex with Katy Perry was. "When you're a monk, you're not allowed to have sex with anyone. When you're married, it's one person. That's one more than a monk. It's not that different. I'd be having sex thinking, 'think of anyone, anyone else.'"
This and that text message revelation in Vogue! You were in that hideous Arthur remake, Brand. We have not forgotten. [NYDN]
---
Kim Kardashian is planning to launch a kid's clothing line with North West as the tiny little face, according to celebrity stylist and Kardashifrend Lloyd Klein. Recall, if you will, that Kim and Kanye sent special tiny hoodies and skinny jeans to Prince Babygeorge; also, Kim told Jimmy Kimmel that North would be wearing "custom-made chains and leather pants."
Make a baby bib that says "Cry so hard motherfuckers want to feed me" and we'll talk. [NYDN, Yahoo!]
---
A dude on cruches tried to break into Kid "We Were Trying Different Things, We Were Smoking Funny Things" Rock's house and then Kid Rock wrote a post about how serious he takes his privacy (very serious)/how much he wants to shoot someone.
In a post titled, "Don't mess with a m——-f——r like me," Rock posted stills from the surveillance footage that showed the man, and described him as a "white male" with a "receding hairline," mustache, and side burns.

"Thank God I was not on the property at the time of this attempted break in," Rock wrote. "I am an avid hunter and marksman and I will not hesitate to shoot anyone who has myself or family in fear for our lives. "

"I take the invasion of my personal space very serious regardless of who you are," he continued. "YES, I do profile people. I am currently profiling any balding white male on crutches driving a white creeper van."
'Cause he wants to be a COWBOY, BAAAAYBYY / WITH THE BLAH BLEH BLAH AND THE SUNSHINE SHININ'. [NYDN]
---
Image via AP