Katy Perry talks a lot about her personal life in her new Vogue profile. She calls Russell Brand "controlling," and says that although she loved him when they married, she hasn't heard from him "since he texted me saying he was divorcing me December 31, 2011."
The singer tells the magazine:
"At first when I met him he wanted an equal, and I think a lot of times strong men do want an equal, but then they get that equal and they're like, I can't handle the equalness. He didn't like the atmosphere of me being the boss on tour...I have to claim my own responsibility in things. I do admit that I was on the road a lot. Although I invited him time and time again, and I tried to come home as much as I possibly could."
Perry goes on to say that there is some "real truth" about Brand's reasons for their breakup, but that she can't share it with Vogue because she'd rather keep that trump card, for now: "I felt a lot of responsibility for it ending, but then I found out the real truth, which I can't necessarily disclose because I keep it locked in my safe for a rainy day."
It's not clear if Perry intended it this way, but it certainly sounds like she has some secret dirt on her ex-husband. Anyone want to take a guess what skeletons Brand — who has been open about his heroin addiction, alcoholism, and criminal record, among other things — might be hiding?
G/O Media may get a commission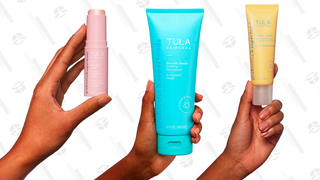 Beauty and the Beat [Vogue]