Just a day after it was reported that Bachelor in Paradise producers are enforcing a two-drink-an-hour maximum on set after completing a sexual misconduct investigation, it's now been reported that producers will also have to approve sex between contestants before it happens on the show.
Ana Gasteyer Satirizes the Girl Boss in 'American Auto'
TMZ reports that before sex can happen between contestants, both parties must go to a producer and state that they consent. But if a producer thinks that either person is incapable of giving consent, they can stop it from happening. Sources also tell TMZ that if contestants do begin to have sex without getting approval, producers can stop them mid-coitus.
The new rules come after ABC conducted an internal investigation into sexual misconduct claims between contestants Corinne Olympios and DeMario Jackson. While Warner Bros. concluded that there was no evidence of misconduct, Olympios's lawyer released a statement saying that they will be conducting their own independent investigation.
While Olympios and Jackson's return to the series is unlikely but still unconfirmed by ABC or Warner Bros., Variety reports that according to sources, Jackson is "likely" to appear on the Bachelorette's "Men Tell All" special which airs at the end of each season.
G/O Media may get a commission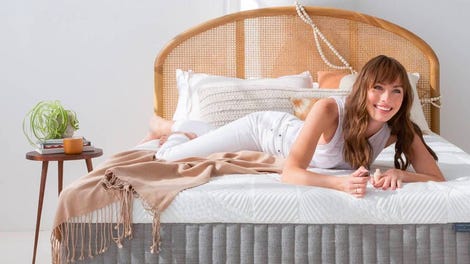 Sleep Sale
Sleep Sale - Brentwood Home
The second part of Jackson's lengthy interview with E! News also aired Tuesday night, in which he describes being told by a producer that a third party filed a complaint against him and being unable to say goodbye to contestants before leaving the show. "I just cried. I don't even know why I cried. I was like sad as fuck," he goes on to explain. "I'm like, "What did I do—did I date your daughter? What did I do besides give everybody love?"
Jackson also elaborates as to what he thinks happened behind the scenes with regards to the producer who allegedly reported him, but suggests that he doesn't really understand why this all happened: "I just got played in general. I'm not sure by who."
Towards the end of the interview Jackson talks more about how he feels being black may have contributed to him being asked to leave the show:
It's easy for the public to get angry with the big black man, you know? The minute you release this black man's face and this white girl's face, before either of us commented on it, I was already like a rapist and I was like, excuse my French, a n***er, a monkey, and she's a whore and a slut. They were slut-shaming her because of what she did last season with Nick. People were just angry, like it was like black people didn't like her and white people didn't like me, and people were mad because instead of waiting for the facts to come out.
Jackson does not confirm if he'll be returning to Bachelor in Paradise, saying he doesn't even care right now about coming back. "I feel like we're all like pawns in the game," he said of himself and the rest of the contestants.