Now that they've resumed filming after completing an internal investigation into on-set sexual misconduct, the producers of ABC's Bachelor in Paradise have reportedly imposed a two drink per hour maximum for contestants.
According to TMZ, "the crew is monitoring drinking levels among the cast and the bartenders are also responsible for keeping tabs. Producers have also made a point of providing food at all times during the shoots...presumably to absorb the alcohol."
Good thing no one has ever gotten fucked up off an entire day of drinking two-drinks per hour on the beach before!
This change comes after it was reported that contestants' luggage is now specifically searched for illegal and prescription drugs when they get to set, "part of a broader effort by producers to keep a tighter reign on the activities of contestants." Production sources also tell TMZ that the cast—as Bachelor expert Michelle Collins predicted—had an on-camera discussion about what occurred between DeMario Jackson and Corrine Olympios, the two contestants whose alcohol-infused sexual encounter led a producer to file a complaint and sparked a public conversation about consent on reality television.
Jackson, meanwhile, gave his first post investigation sit-down interview to E! News on Monday (Part 2 will air tonight), telling entertainment reporter Melanie Bromley that he explicitly wanted cameras to follow himself and Olympios as they were becoming more physical out of fear that he'd be painted as the sexual aggressor.
G/O Media may get a commission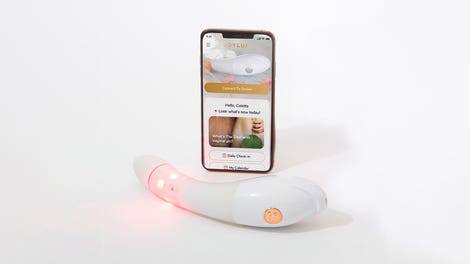 $50 Off
Joylux vFit Gold Device
"She's like, 'Let's go to the pool, let's go hang out,'" Jackson stated. "It's crazy because when you're a man—mostly African American man—no matter where you're at, you always look for things that can help you out. And at that moment, I made sure the cameras followed us. It just seemed too perfect in a sense for me, and at the point, that's when my spidey senses got up."
He then described Olympios asking for oral sex, saying, "I get out of the pool, and I have my legs in the pool, and I'm just hanging out...This is when she gets up out of the pool and puts her lady parts right on my face."
The next day, he says that he and Olympios were on good terms: "She wasn't mad. We were hanging out. Actually, I offered her a shot, and she said that the production had cut her off from drinking for the day." He then claims a producer told him a few days later that he needed to "bow out":
He goes, 'I can't tell you what I know, but it's going to be bad if you don't leave tonight.'"
In the conclusion of their investigation, Warner Brothers stated that "the tape [of the incident] does not support any charge of misconduct by a cast member. Nor does the tape show, contrary to many press reports, that the safety of any cast member was ever in jeopardy."
Attorneys for Olympios, as previously reported, are conducting an independent investigation to see if their client was in danger or harmed in the incident. As her famed attorney Marty Singer said last week:
"It needs to be made crystal clear that production of Bachelor in Paradise was shut down because of multiple complaints received from BIP producers and crew members on the set. It was not shut down due to any complaint filed by Corinne against anyone. It comes as no surprise that Warner Bros., as a result of its own internal investigation, would state that no wrongdoing had occurred. Our own investigation will continue based on multiple new witnesses coming forward revealing what they saw and heard."
With both Olympios and Jackson off the show, Bachelor in Paradise faces further challenges; ABC is apparently losing advertisers that, up until now, had no issue sponsoring a show about people getting dangerously wasted and hooking up.