On Sunday and Monday evenings, ABC aired back-to-back episodes of The Bachelor, essentially saturating the market with a cast of characters we've seen before, albeit played by different actors. Let's get reacquainted.
Sunday night's episode started off with some personal interviews with Chris Harrison. As promised, we got Kelsey, the crazy reject, and Andi, the heartbroken failure, both sharing their sides of their stories. Business as usual.
But it was after these one-on-one conversations that the real, beautiful work of the franchise took place. Let's meet these individuals characters:
Carly: The Sacrificed Pawn
Poor, poor Carly. She thought she was winning. But she celebrated too soon, before she had a chance to realize the truth: she was just a pawn in this game of love. Carly attempted to throw Britt, an early front-runner for Chris's heart, under the bus, telling Chris that she thought Britt's intentions weren't pure and that Britt was lying about really loving Chris's very small town in Iowa. Carly said she wanted Chris to know about Britt's true colors (what she didn't tell him was how pleased she was after she Britt had a bit of a freak out about not getting a rose from Chris during a group date – so pleased that she said, "There is NO recovery"). Carly thought she would be rewarded for her actions.
"Ugh I'm going to throw up. I'm so nauseous. The thought of him being manipulated makes me nauseous," she said as Britt made one last ditch attempt to convince Chris she wasn't a liar. "Come on Chris. See through it. Please.
"I don't feel bad for Britt at all," she added. "It's fun to watch her squirm. I've squirmed so much. Now the girl who is the prettiest girl in the room, who's got everything she wants, now knows what it's like to be a normal person. How's it feel?"
G/O Media may get a commission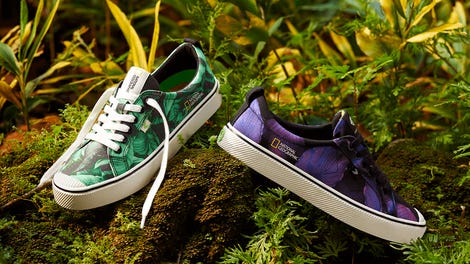 New New New
Cariuma + National Geographic
But after he sent Britt home for treachery, Chris got rid of Carly too – even though he had just told Britt, "The way Carly reacted [to my home] was what I want in my future." Cold. Blooded. But if Carly had watched the show before (and she had) she should have known how this would play out. The snitch never gets the boy, but she sure does move the plot forward.
Britt: The Wannabe Future Bachelorette
Even while she was going down, Britt desperately tried to repair the damage she had done to her reputation, preserving her future chance of being the star of her own season of the show. She knew it was too late to rewind time and get rid of that terrible freakout she'd had in front of Chris, but she had to do something to protect herself. "Was it Carly?" she asked Chris, after he told her that someone had told him Britt was a liar. "I don't know why she has something against me."
After Chris made it clear Britt was not the one for him, she did an excellent job sobbing outside the house, talking about how Carly was her friend and how she didn't understand why she would have done this to her. "I'm just surprised that she did that, I don't know why she did that. I really trusted Carly."
And she's still keeping up appearances on Instagram with Bible verses and explanations:
I'm not even going to address all of the things said about me except that I choose to forgive and love those people because I understand how intense of an environment we were all in, and viewers can plainly see that I tell Chris the truth every time. That speaks for itself and everything else will come and go. I also apologize for processing my emotions out loud when I should have waited for privacy. I ask for grace and forgiveness as well. Love you guys. Seriously!
Britt's got a good chance.
Becca: The Virgin
Of course, Chris still doesn't know Becca's a virgin per se – though, thanks to her sister, he knows she doesn't like being "intimate" with men, which worries him. He really doesn't know much of anything about Becca, but what he does know is that she's nice and polite and there's really no reason to send her home: the promise of her is better than the reality of another girl. Another baddd girl...
Jade: The Whore
Jade is not legitimately a whore (not that there's anything wrong with being one). But for the purposes of this show, Jade–who posed for Playboy more recently than not recently and has nude photos of herself readily available online–is a whore, especially when compared to literal virgin Becca. Jade's brother referred to her as "free spirit" and a "wild mustang." Chris wasn't so sure about that characterization – he preferred "hot mustang." Well that was before Jade told him about her nude photos. Visibly uncomfortable, Chris didn't feel better when the two of them looked at them together, as he elaborated on his blog:
When she started sharing that she had something to tell me, my mind immediately went to the worst. I was almost relieved when she revealed that she'd done some nude modeling. When she offered to show me the photos, I really didn't know what to say. A big part of me did not want to see that, but knowing that it was important to her for me to see it with her, I reluctantly obliged; it was extremely uncomfortable, though.
He didn't send Jade home and keep Becca because of those photos though! No, absolutely not.
If Jade was my soulmate and "the one," I would never let that come between us. The words I said to Jade were true. Seeing those photos did not change how I felt about her. But how I felt about her after meeting all the girls' families was just not strong enough to move our relationship to the next level.
Chris had always thought that Jade was quiet and shy, but last night he learned that she was not either of those things. Becca, to him, is still perfect. It's not about their families: it's that his idea of one woman was shaken up more than his idea of another. One is flawed; the other remains perfect.
Our final three are the aforementioned Becca, Whitney and Kaitlyn; miraculously, the latter two have managed to (so far) remain mostly un-typecast. But when Chris sends two home and picks the other, they won't be able to escape that fate. One will be The One, the others will not. And so another season comes to a close. The faces are new, but the stories are the same.
Images via ABC