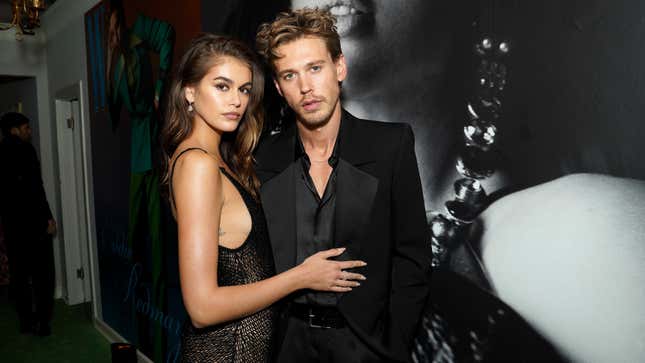 L.A. people love to boast about their superior weather, but it certainly wasn't superior to anywhere Friday night. Despite a rare blizzard raining snow and hail down on Hollywood, A-listers turned out for W Magazine's annual Best Performances party to rub elbows and take shots together. The star-studded event usually precedes the Golden Globes, but this year it precedes the Screen Actor's Guild (SAG) awards, which air Sunday night (stay tuned for Jezebel's red carpet coverage!).
Elvis star and awards season darling Austin Butler showed up with his date, Kaia Gerber (daughter of supermodel Cindy Crawford and Randy Gerber), who wore a sheer black Celine dress and pouted all night for the cameras. Aubrey Plaza arrived in a fuzzy orange and purple Rodarte suit set, the rest of The White Lotus S2 cast showed up to dance, drink and spark dating rumors with each other, and stars like Jessica Biel, Kate Hudson and Michelle Williams popped in out of nowhere.
It's safe to say that one really cares to read more about the uninteresting happenings at this party we were all not invited to, so let's just get right to the fits and party pics.