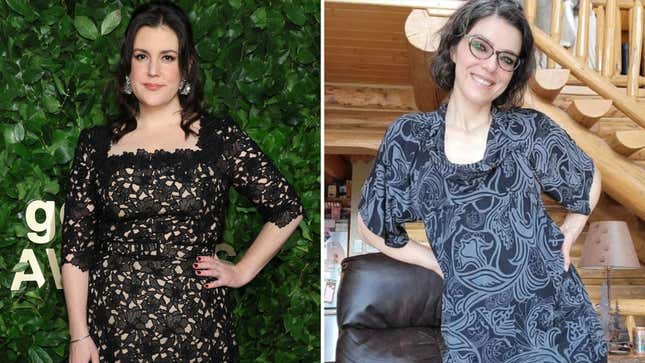 Women in the limelight know all too well that an unfortunate byproduct of starring in film and television projects is being on the receiving end of a constant stream of unwarranted body commentary. For prestige television sweetheart Melanie Lynskey—who has managed to reinvent her career as a leading star with roles on Yellowjackets and The Last of Us—that commentary has only grown louder and more irritating on Elon Musk's Twitter.
On Wednesday, former model and winner of the first season of America's Next Top Model Adrianne Curry joined the choir of voices commenting on Lynskey's body. In response to a dimly lit photo of Lynskey in a decadent robe (or cape?), Curry wrote in a since-deleted tweet: "her body says life of luxury…not post apocolyptic [sic] warlord. Where is linda hamilton when you need her?"
Linda Hamilton and her guns of steel, of course, starred in Terminator 2 alongside the Governator himself. Her grueling workout regimen was well-documented ahead of the 1991 film's premiere, and Curry—a gamer-adjacent individual who regularly offers up commentary on television adaptations of popular video games—seemed to think Lynskey's The Last of Us character should be similarly yoked. While Curry's comment seemed to be an attempt to address the show's casting, she still directly referenced Lynskey's body as the issue at hand, as opposed to calling out casting directors or the writers' room for choices that strayed from the original game.

Lynskey, increasingly known for her swift and classy clapbacks, immediately took Curry to task, tweeting: "Firstly- this is a photo from my cover shoot for InStyle magazine, not a still from HBO's The Last Of Us. And I'm playing a person who meticulously planned & executed an overthrow of FEDRA. I am supposed to be SMART, ma'am. I don't need to be muscly. That's what henchmen are for."
G/O Media may get a commission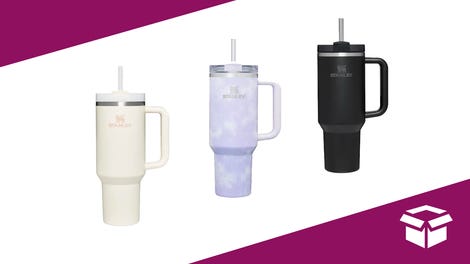 Up to 45% off
Stanley Cup Sale
After nearly 30 years of swatting away unsolicited feedback about her body and archaic ideas about what a film lead is supposed to look like, Lynskey's public responses to trolls ought to be enshrined in some sort of Hall of Fame. When Yellowjackets first debuted, Lynskey recalled the most depraved of all her incel followers: those who feign concern for her health. "Bitch you don't see me on my Peloton!" she tweeted in January. "You don't see me running through the park with my child. Skinny does not always equal healthy."
"Sometimes, I get tired of hearing about my body, even when it is positive," she told InStyle last summer. "I just, you know, feel like I need a break from thinking about it and hearing about it and I think all women feel that way."

Respectfully, we'll be here bowing down to our Queen Mother from afar, wishing a fruitful next several decades of her career and a near-excessive employment of that beloved block button. Wishing you peace from the haters, Melanie!