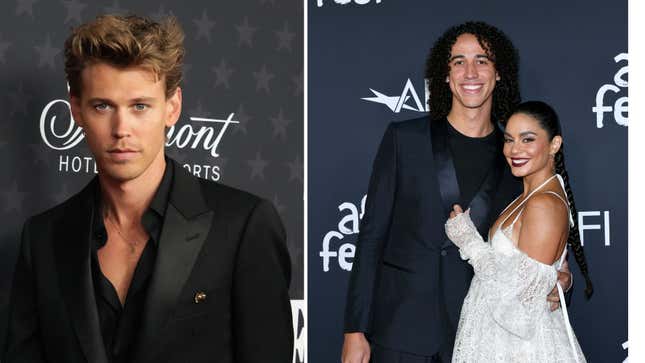 For a while now, it's been hard to tell where Elvis Presley ends and Austin Butler begins, thanks to the deep Southern affect that's haunted the actor since he was first cast as the sultry hound dog and continues to lace his every word today. Butler's vocal coach warned that his "genuine" Elvis accent might be permanent after Butler worked so hard on it for three years—but as his press tour and Oscars campaign comes to a close, Butler's apparently managed to find a way bid adieu to the drawl.

"I am getting rid of the accent, but I have probably damaged my vocal cords with all that singing," Butler said during a recent appearance on ​​The Graham Norton Show, Page Six reports. "One song took 40 takes!"
Butler has been dragged, mocked, and applauded for sounding like the King of Rock and Roll long after the cameras stopped rolling back in 2021. I get it, it probably takes some irreversible, Ouija-board-type shit to make a regular white boy sound like that, but as Butler joins the legions of girlies with vocal fry, it's worth considering why exactly the accent has been so hard to shake.
Butler went above and beyond (and arguably too far) to be able to sing "Blue Suede Shoes" in its original register. In a 2022 Variety "Actors on Actors" interview Janelle Monae, the 31-year-old actor admitted to ghosting his family for three years to play the part right. (His poor mother!) I wouldn't be surprised if that infraction alone led to the curse of becoming the voice-incarnate of Presley itself.
But as one thing is laid to rest, another is born—such is the circle of life, after all. Now that Butler is released from the curse of sounding too much like The King, his ex-girlfriend Vanessa Hudgens is freed from having to support men who can't be bothered with a simple "thank you." Amidst his success, Butler has been a bit reluctant to give his former paramour of nine years her due credit, referring to her only as the "friend" who encouraged him to audition for the role years ago. After a (minor) backlash, Butler finally thanked Hudgens for her "clairvoyance" in an interview with the Los Angeles Times and acknowledged that the two were not just friends.
And look at that! Hudgens just revealed she got engaged to her boyfriend, Colorado Rockies player Cole Tucker. Congratulations are in order to all. May your true love and natural accents stand the test of time.