On Tuesday night on the eve of Montana's special election to fill the seat vacated by Trump-picked secretary of the Interior Ryan Zinke, GOP candidate Greg Gianforte allegedly assaulted Guardian reporter Ben Jacobs, slamming him to the ground.
The Guardian reports that Jacobs was interviewing Gianforte about the Republican-backed healthcare plan, which the candidate was caught on tape praising earlier this month. Halfway through the questioning, which sounds fairly innocuous, there's a scuffle and a loud crash. "I'm sick and tired of you guys!" Gianforte shouts. "The last time you came in here you did the same thing. Get the hell out of here! Get the hell out of here!"
Gianforte asks Jacobs if he's with the Guardian. When Jacobs confirms —recorder still running—they have the following exchange.
"Yes! You just broke my glasses," Jacobs replied.

"The last guy did the same damn thing," Gianforte said.

"You just body slammed me and broke my glasses," Jacob said.

"Get the hell out of here," Gianforte yelled.
The incident occurred in Gianforte's campaign headquarters in Bozeman. BuzzFeed news reporter Alexis Levinson was in the room next door and provided an account of what she saw on Twitter in a thread that describes what sounds like an extremely inappropriate assault by a would-be politician on a reporter asking him questions that he simply didn't want to answer.
Speaking to MSNBC's Chris Hayes, Jacobs sounded remarkably composed for a man who had just been body slammed by a grown man while he was trying to do his job. "The next thing I know, I'm being body-slammed," he said. "He's on top of me, my glasses are broken. It's the strangest moment in my entire life reporting."
G/O Media may get a commission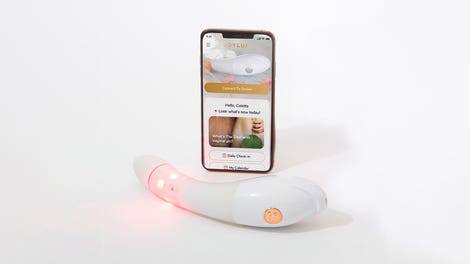 $50 Off
Joylux vFit Gold Device
Gianforte is a candidate whose background shares many similarities to the dingbat in the bad wig running the country now. From the New York Times:
He promotes his outsider status (he has never held office) and his business acumen (his software empire, RightNow Technologies, started in a basement), and takes aim at sanctuary states and "the liberal elite" whenever he can. He's crisscrossed the state with the president's son, Donald Jr., and stumped with Vice President Mike Pence and Interior Secretary Ryan Zinke.

Mr. Gianforte's critics are already going after his supposed Russia ties — he holds about $250,000 in funds that include shares in Russian companies.
He's running against country singer Rob Quist, a man who has spent most of his life in Montana who wants to "protect health insurance, encourage student debt forgiveness and keep drillers off federal acres." Essentially, he's Gianforte's opposite in every way and as far as we know for the moment, has not body-slammed a reporter trying to ask him a question. Montana's special election will be held May 25.
Update, 9:41 P.M.
The Gallatin County Sheriff's department is investigating the incident and will be holding a press conference later this evening. Meanwhile, the Gianforte campaign has a released a statement stating how "unfortunate" it was that a "liberal journalist" and his "aggressive behavior" caused such a scene. According to the campaign, Gianforte asked Jacobs to lower the recorder but Jacobs refused. "Greg then attempted to grab the phone that was pushed in his face," the statement reads. "Jacobs grabbed Greg's wrist, and spun away from Greg, pushing them both to the ground."
Update, 10:55 P.M.
Here's Fox News's recounting of the events, which sounds quite a bit different than the statement from Gianforte's camp. By their account, Jacobs walked into the room where Gianforte was, asked him a question about the recently-released Congressional Budget Office report on Republican-backed healthcare act and then the following ensued, emphasis ours.
At that point, Gianforte grabbed Jacobs by the neck with both hands and slammed him into the ground behind him. Faith, Keith and I watched in disbelief as Gianforte then began punching the man, as he moved on top the reporter and began yelling something to the effect of "I'm sick and tired of this!"

Jacobs scrambled to his knees and said something about his glasses being broken. He asked Faith, Keith and myself for our names. In shock, we did not answer. He then said he wanted the police called and went to leave. Gianforte looked at the three of us and repeatedly apologized. At that point, I told him and Scanlon, who was now present, that we needed a moment. The men then left.

To be clear, at no point did any of us who witnessed this assault see Jacobs show any form of physical aggression toward Gianforte, who left the area after giving statements to local sheriff's deputies.
A previous version of this post misstated the Secretary of the Interior's last name. It has been corrected.