Pakistan will finally pass a law banning "honor killings," days after social media star Qandeel Baloch was strangled to death by her brother. The law, which was announced by Prime Minister Nawaz Sharif's daughter Maryam Nawaz Sharif, will remove a loophole that permits the family of the victim to legally pardon the killer, according to Reuters.
Ana Gasteyer Satirizes the Girl Boss in 'American Auto'
Muhammad Waseem, Baloch's murderer posted a confession video days after committing the crime expressing no regret: "I am proud of what I did. I drugged her first, then I killed her. She was bringing dishonor to our family." He has since been arrested.
Later, Reuters reported that the government had chosen to prohibit his family from legally forgiving Waseem.
G/O Media may get a commission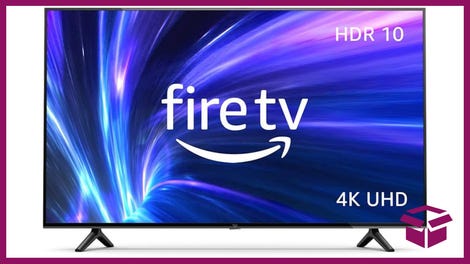 42% Off
Amazon Fire TV 50" 4K Smart TV
"It was done on the instructions of the government. But it happens rarely," said a police official.
From Reuters:
Maryam Nawaz Sharif said the government wanted to pass the law unanimously and had been negotiating with religious parties in parliament.

"We have finalised the draft law in the light of negotiations," she told Reuters in an interview. "The final draft will be presented to a committee of joint session of parliament on July 21 for consideration and approval."


Maryam said once the parliamentary committee approved the bill, it would be presented for a vote in a "couple of weeks" before a joint session of parliament.
Reuters reports that a spokesperson for one of the two major religious parties, Jamaat-e-Islami, which is typically hostile to legislation that might empower women, said they would not oppose the bill.
A United Kingdom government report released in February found that levels of violence against women in Pakistan were high—about 1,000 honor killings are committed per year. In 2014 alone, 232 women had acid thrown at them, and an average of four women were raped per day. According to the report, nine of 10 women are victims of domestic violence.
This year, a short film called A Girl in the River, which highlighted one such attempted killing and how the law works to forgive the perpetrators, won the Academy Award for Best Documentary Short. After watching the film, the prime minister said in a statement: "We are striving to give women their rightful place in the society, both economically and politically and end all sorts of violence against them and bring the perpetrators of attacks on them to justice."
Image via AP.