Mariah Carey is such an amalgamation of superstar self-investment and pronounced preciousness that she can't even explain herself. And that's fair: Trying to explain a force like Mariah would be like trying to explain the wind. And so, in interviews she usually deflects, deflects, deflects, calling on her diva rights to do whatever she damn well pleases in public.
On today's episode of Ellen, highlights of which are embedded above, Carey explained herself in only the most elusive ways, naturally. On her decision to come out in a red robe that she, within seconds, took off (a seeming nod to her infamous pre-breakdown TRL appearance in 2001), Carey said: "I didn't know, I thought maybe wear the robe. I was like, 'Do I do the robe?' And then I was gonna do the robe without the ensemble beneath. And then I got scared of that. And so I just said maybe I'll do the robe, and Ellen will understand that I do this in a festive way, 'cause look at the set."
Oh, OK.
After Carey referred to her diamonds as celebratory, Ellen DeGeneres asked her what she was celebrating. "Living life and wearing diamonds," responded Carey.
Oh, OK. (Great answer. Unspecific, but great answer.)
When DeGeneres asked Carey about this Instagram picture...
G/O Media may get a commission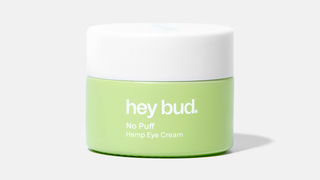 15% off
Hey Bud - No Puff Hemp Eye Cream
...Carey said it was taken at 4 am and that she was wearing a bodysuit under those bubbles.
Oh, OK.
How's she doing after her breakup with James Packer, the billionaire to whom she was briefly engaged?
"I think I'm doing well, how are you?"

Oh, I'm OK.
What about the rumor that Packer's resistance to being on her upcoming E! "docuseries" Mariah's World played a role in their split?
"It's kind of difficult to talk about at the moment, so I'm just going to compliment you on these decorations once again, 'cause they are fabulous."
Oh, OK.
One thing Carey was firm on, though, is that she is festive. She said it repeatedly. In fact, she reports, "I try to festivate whenever I can." On that we can depend unfailingly, unyieldingly, inherently.