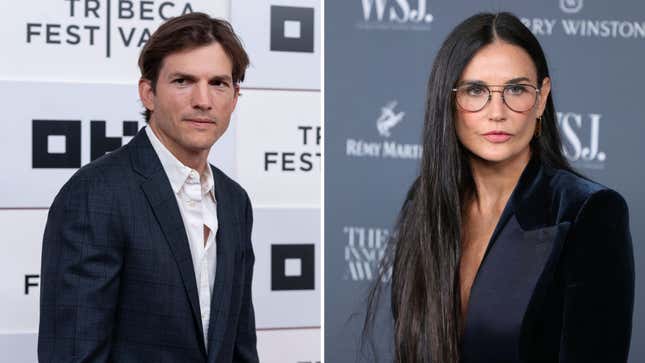 It's been a while since Ashton Kutcher and Demi Moore have made the tabloid rounds together, but Kutcher offered more insight this week into what happened during their widely-publicized union. In a new profile with Esquire, the No Strings Attached actor spoke candidly about some painful parts of their eight-year marriage, including a late-term miscarriage, multiple rounds of IVF, and trying to conceive again.

Is Emmy Rossum Old Enough To Play Tom Holland's Mom?
"Losing a kid that you think you're going to have, and that close to thinking you're going to have a kid, is really, really painful," he told Esquire. "Everyone deals with that in different ways.... For whatever reason, I had to have that experience."
Moore and Kutcher were married from 2005 to 2013, and amidst the threesome scandal the couple endured—much of which was disclosed in Moore's 2019 memoir Inside Out—there was also great heartache. In her book, Moore writes about struggling with alcoholism and relapsing after 20 years of sobriety during their marriage. The guilt of relapse played into Moore's devastation after her miscarriage, which occurred when she was six months pregnant.
She wrote in Inside Out:
It was my fault, I felt for sure: if only I hadn't opened the door to drinking, I never would have lost the baby. Even worse, I was still smoking when I found out I was pregnant, and it took me a few weeks to quit completely. I was wracked with guilt and convinced what had happened was my doing.
While he now has two kids of his own with wife and former That 70s Show costar Mila Kunis, Kutcher admitted to Esquire that becoming a stepfather to Moore's kids with Bruce Willis was "a lot."
"I was 26, bearing the responsibility of an 8-year-old, a 10-year-old, and a 12-year-old," he said. "That's how some teen parents must experience their 20s."
Still, Kutcher says there's no bad blood among the families today. "I don't want to open anything up in that realm," he said.