We know Ashley Dupre gives bad advice, but the over-the-top strategy she suggests for a man courting his coworker has really raised the bar.
Says an anonymous suitor,
I have a severe crush on a girl I work with. We've gone out a few times, but I'm pretty positive she has no clue how I feel. I want to express my feelings, but I'm concerned she won't feel the same way and if she does, might be leery of hooking up because we work together. What do I do?
You might think Dupre would advise caution, given that workplace romances can be touchy. You'd be wrong:
[Y]ou should try something creative to let her know how you feel. Since you're friendly and have gone out before, you're probably aware of some of her favorites: flowers, lunch spots, snacks, etc. I think you should send her things spread out over the course of a week. Sort of like a secret admirer. Start on Monday by leaving her an arrangement of her favorite flowers. In the card, write something like. "You know me and I know you, but I'd like to get to know you more." Let her be curious for a day, then on Wednesday, leave her a little something from her favorite lunch spot or a coffee place she goes to for a midday pick-me-up. With this one, get a little more personal in the card, and also give her some clues as to who you are. Finally, on Friday, leave a simple Post-It on her computer when she's not looking that says something like, "Have I driven you crazy enough? Let's meet so you finally know who I am (unless you've already figured it out!)" Tell her you'll be waiting on a certain day and time at a certain place with a single red rose. (I know this sounds cheesy, but I'm telling you, women go crazy for this stuff!)
G/O Media may get a commission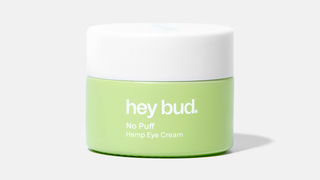 15% off
Hey Bud - No Puff Hemp Eye Cream
If by "crazy" she means "scared that I'm being stalked at work," then she's right on. I find it hard to believe that many women would appreciate these coded messages at the office, especially given their vaguely creepy tone ("you know me and I know you"). Then there's the fact that the lady and her suitor have already gone out — isn't it possible that she's just not that into him? Leaving aside their previous history and possible sexual harassment concerns, though, is a grand gesture like this ever a good idea?
Sure, there are people who appreciate a well-thought-out Valentine, a birthday surprise, an elaborate proposal. But at least these are generally things that happen when you're already in a relationship. There's something about the overly complicated first-date (or in this case possibly second or third-date) ask that feels sort of pressuring — how can you say no, those flowers seem to demand, when I did all this work? And even if the suitor is a total sweetheart and never intended any pressure, all that extra planning makes a potential rejection way more awkward for everyone — plus he's out whatever money he spent at the florist. If you really must ask out your coworker, what's wrong with a basic, "wanna go out sometime?" It's simple, it's direct, and if she says no, at least no flowers had to die.
Ask Ashley: Love Work In Progress [NY Post]
Image via Milarka/Shutterstock.com