Among all the personae ex-escort Ashley Dupre could have adopted for her New York Post advice column, it appears she's chosen staggering banality. After the jump, her surprisingly vanilla views on marriage, sexy Santa outfits, and dicks.
This week saw Dupre's second foray into advice-giving, and she appears to have settled into a groove of slightly bent cliche. To a 19-year-old in love with a married man, she says,
[Y]ou are very young! Take this time to focus on yourself, your friends and your body. Working out and staying healthy will give you the self-confidence you need to go out there and find a man who's all yours.
Her slightly odd exhortation to "focus on your body" notwithstanding, Dupre is just as pro-monogamy as advice columnists with more conventional pasts. She tells a cheating wife, for instance, "Try to figure out what caused you to carry on a six-year affair in the first place. [...] Whatever it is, it needs to be fixed" — all of which sounds very "Dear Abby." Of course, Abby doesn't usually answer questions like "Does size matter?" Nor is she likely to give this kind of response:
[I]t's all about exploring and finding the positions that make you not ever wanting to stop.
G/O Media may get a commission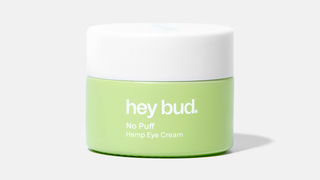 15% off
Hey Bud - No Puff Hemp Eye Cream
At least Dupre's erratic grammar implies that she's working without the benefit of a ghostwriter. But while Palin ghost Lynn Vincent isn't known for her sexual permissiveness, I still think she might have come up with more creative advice than this, directed at a woman looking to spice up her marriage:
Don't say a word to him other than, "Lie down on your back and let me do the rest."

Trust me, he'll take notice, and it will definitely wake him up. He'll be like, "My wife is out of control . . . but I like it!" Keep things fresh and interesting. Sometimes it's good to be a bad girl.
Dupre also offers a holiday edition of her bad-girl advice, in response to a wife who wants to get a special gift for her husband:
If you have kids, send them anywhere but home. Go to Abracadabra and buy a Santa's helper outfit. A few nights before Christmas, cook a great dinner, open a bottle of wine, light some candles and play some romantic, cozy winter music. Then, welcome him home by opening the door in your new outfit. That's the only present you need to get him. Oh, and if you want, throw in some lines like, 'Have you been naughty or nice this year?' It's funny, cute and bound to make it a Christmas he'll never forget. Perhaps make it a new tradition?
While the sexy Santa's helper routine would be pretty much guaranteed to make any man I've ever dated vomit and then die, I also recognize that the bottle-of-wine-plus-sexy-costume advice is standard spice-up-your-marriage fare. Which is exactly the problem. In her first column, Dupre argued that both men and women were simple, and she seems to be proceeding from the notion that some relatively basic human consideration and an occasional night of extremely light role-play are enough to keep a relationship strong. This is sort of reassuring, but it's not that entertaining, and entertainment is really what advice columns are all about. Nobody turns to Abigail Van Buren or Cary Tennis or Ashley Dupre for actual advice — or at least, they shouldn't. Rather, we're looking for the newspaper equivalent of a soap opera, and Dupre's scandalous past probably made her seem like the ideal person to provide it. Unfortunately, it seems like she's trying to prove how non-scandalous she really is — and the result isn't very much fun.
Ask Ashley: Man Is Married? Move On! [New York Post]
Earlier: Women Of The View Unsure Whether To Slut-Shame Ashley Dupre