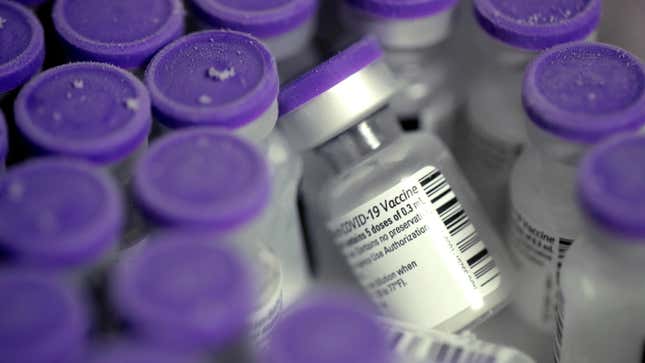 A super promising new health tool lingers seDUCTIVEly on the horizon. The COVID pill... Have you heard of it? Well, she's coming this way apparently slash hopefully.
The COVID-19 oral antiviral from Merck and Ridgeback Biotherapeutics is said to be able to reduce the risk of hospitalization and death by as much as 50 percent, its makers claim. CNN reports that the company's planning to seek out emergency use authorization from the Food and Drug Administration immediately—and not a moment too soon, given the grim milestone we just reached here in the United States on Friday as we surpassed 700,000 COVID-related deaths, NPR reports.
"We've lost 700,000 Americans now and fully 200,000 of those folks have died since vaccines have been available almost to everyone in this country, and every one of those deaths is unnecessary," Dr. Jonathan Reiner, a professor of medicine and surgery at George Washington University, told CNN. "So even though the news is great for this antiviral agent, really the message that people need to receive is 'get vaccinated.' No one needs to die from this virus."
At least cases and hospitalizations are finally starting to drop, per CNN.
Here's some other COVID-related news to close out the weekend:
Looking beyond the U.S., the global COVID death toll surpassed five million people this weekend. Similar to how things are playing out stateside, the majority of those who've died, averaging about 8,000 people per day, have been unvaccinated. This is both distressing and enraging, considering the huge disparities of vaccine access between rich and poor nations, but it should be noted that more than half of all COVID deaths reported on a seven-day average worldwide were recorded in the U.S., Russia, Brazil, Mexico, and India. [Reuters]
Saturday Night Live's 47th season premiered last night to all-time low ratings in certain demos. (I don't know what "a 3.5 household Live + Same Day rating in the 44 metered local markets and 1.3 in 18-49 in the 25 markets with local people meters" means, but it's definitely not good?) Anyway, the cast and host Owen Wilson did a sketch making fun of anti-vax parents being loud and wrong at PTA meetings. [Deadline]
Fully vaccinated Americans continues to stall at the just-over-half-of-us mark, with 55.9 percent of people in the U.S. having gotten all their shots. [Centers for Disease Control and Prevention]