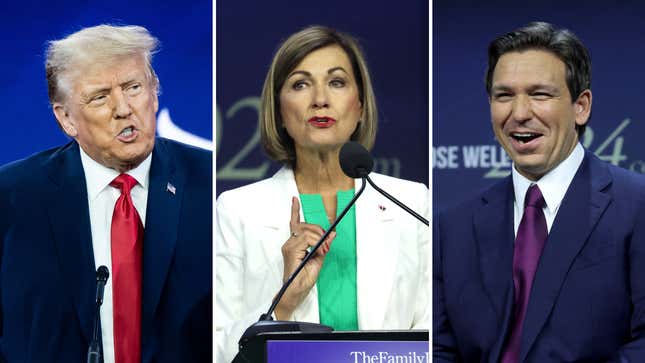 Here's some petty political drama from the presidential campaign trail for your Monday enjoyment: Ahead of the hugely consequential Iowa caucuses in her state, Gov. Kim Reynolds (R) has said she doesn't plan to make an endorsement in the GOP primary. But she seems to be embracing Florida Gov. Ron DeSantis (R) and his wife, Casey, and that's very much pissing off and befuddling Donald Trump, who believes he essentially got Reynolds her job by appointing former Iowa Gov. Terry Branstad as an ambassador. "I opened up the Governor position for Kim Reynolds, & when she fell behind, I ENDORSED her, did big Rallies, & she won," Trump wrote on Truth Social last week. "Now, she wants to remain 'NEUTRAL.'" Trump then skipped the evangelical event where Reynolds signed a six-week abortion ban into law on Friday. They're fully feuding, at least in his mind.
Ted Cruz Won't Commit to Pleasuring a Man to End World Hunger
Meanwhile, DeSantis—who's desperate to breathe life into his struggling campaign as his polling numbers are in free fall—has moved into ass-kissing mode. When someone asked him Saturday if he'd consider Reynolds as his running mate should he win the nomination, he said, "Of course. I mean, she's one of the top public servants in America." He also took a jab at Trump, telling reporters, "Anybody who is a Republican who is trying to denigrate her is way off base on that." And he rushed to Reynolds' defense on Twitter after Trump's rant about her, calling her a "strong leader who knows how to ignore the chirping and get it done." Hmm!
DeSantis desperately needs Reynolds' help—he's burning through cash and recently had to fire about a dozen staffers, reportedly to cut costs. He's also weak with small-dollar donors, which is always a foreboding sign. While the campaign raised $20 million in the second quarter, about 70 percent of that was from people who maxed out contributions and can't donate to him again. Plus, $3 million of it can only be used in the general election, not to defeat Trump in the primary. A staggering $16.9 million came from donations over $200. The New York Times described the situation this way: "Despite a strong overall fund-raising total of $20 million, Mr. DeSantis is spending hand over fist, and his dependence on large donors suggests a lack of grass-roots support."
The campaign's "brain trust" met on Sunday at campaign headquarters in Tallahassee to talk strategy, and it appears they're going to focus on Iowa, per NBC News:
To try to re-center, his campaign is doubling down on the early states, especially Iowa, whose first-in-the-nation nominating contest is now seen as a crucial marker. If DeSantis wins, the field will get smaller and he will get closer to the one-on-one matchup with Trump that he wants. But losing the key state would most likely cement Trump's status as the unbeatable front-runner even further.
DeSantis is also signaling in Iowa that he'd support a national abortion ban, something Trump has been mum about after activists attacked him for saying it should be a state issue, not a federal one. DeSantis' stance might work in Iowa, but it's a much harder sell in New Hampshire, where the first primary is held and where DeSantis is also struggling. It's also a harder sell in a general election.

Fired Fox News host Tucker Carlson asked DeSantis in Iowa on Friday, "You signed a ban on abortion after six weeks in Florida. Would you do the same as president, nationally?"
DeSantis responded with some brow-nosing and said he'd sign "pro-life legislation," while evading the specific question about six weeks. "Well, I'm very proud to say Kim Reynolds is here and she signed a great heartbeat bill today. We were able to do that in Florida. We had a lot of opposition to that. I'm proud to have been a pro-life governor and I will be a pro life-president, so of course I want to sign pro-life legislation."
We await to see how much time DeSantis spends inside Reynolds' colon over the next few months and whether she emerges as his early running mate.