The nonpartisan Congressional Budget Office has released its revised analysis of the also-revised American Health Care Act, the Republican replacement to the Affordable Care Act, and—can you believe it?—it doesn't seem to be a great plan!

The New York Times reports that the CBO projects the passage of the act (and, thus, the repeal of the ACA) would result in 14 million fewer people without health insurance by 2018, and 23 million more without healthcare by 2026—slightly fewer than the original estimate. Congratulations to Republicans on creating an ever-so-slightly less shitty bill.
The CBO's report also found that that some state markets could be destabilized, meaning it would be more costly for sicker people to purchase insurance; the options they could afford are so barebones that the CBO doesn't even consider them as insured.
From NPR:
The deficit reduction in the latest version of the bill represents a decline from previous versions. When the CBO first scored the AHCA, it said the plan would save $337 billion over 10 years. Later revisions reduced those savings to $150 billion.
By far the biggest savings would come from Medicaid, which serves low-income Americans. That program would face $884 billion in cuts. Cutbacks in subsidies for individual health insurance would likewise help cut $276 billion. But those are offset in large part by bigger costs, including the repeal of many of Obamacare's taxes.

G/O Media may get a commission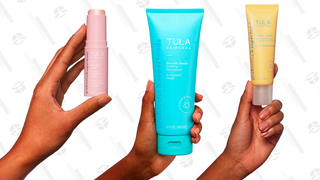 The newer version of the American Health Care Act managed to pass in the House without those voting ever having seen the revised CBO estimate, which is akin to a surgeon closing his eyes and hoping he removes a tumor, and not your stomach.

On Wednesday, Senate Majority Leader Mitch McConnell told Reuters that he was unsure how the Senate would reach 50 votes. "But that's the goal," he said.
The President, First Lady, First Daughter, and First Slenderman (Jared Kushner) just concluded a visit to the Vatican where they met with Pope Francis, who has called health care a "universal right." Hours later, the First Lady tweeted out an image in which she alludes that good health is attributable to prayer, rather than access to medical care: