In the words of one editor: "But really, aren't we all just portraits painted by a penis?" #Poignant.
Danish artist Uwe Max Jensen — previously known for decapitating disney characters and peeing all over the place — used his penis as an instrument which he dipped into acrylics to create the portrait which looks better than anything I could ever draw with my hands.
Here's what he told The Daily Dot about his very talented appendage:
"I have my penis in one hand and the canvas in the other," he told the Daily Dot in a phone interview. "I have a very skilled penis, art-wise."
ART-WISE? who knew penises had to be skilled in anything besides urinating and fornicating? What about those of us who can barely do that? Why are you trying to penis shame, Uwe Max Jensen?
"My penis is an organ. I need it to reproduce, and for sex and joy," Jensen told the Daily Dot. "But I can also use it in my art, and that's joyful for me on more levels."
G/O Media may get a commission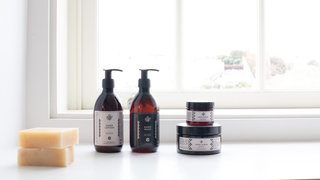 Exfoliate and Hydrate
The Handmade Soap Company
The entire interview is pretty intense, but The Daily Dot reports that penis portraits—of which this is only the second—can take up to ten hours and require (as mentioned above) the use of both hands, one for the penis and one for the canvas. Huh, I couldn't do this, but the fact that Jensen holds his penis in his hand makes it a little less impressive. I was kind of picturing him just flailing about with his penis, using only the power of kegels to draw....but I guess not? Still cool!
Jensen says he did the portrait partly because Kardashian may be this generation's Marilyn Monroe, a fact with which Kanye West absolutely agrees.
Image via Twitter