Last night Ariana Grande Notes'ed a story about a gross interaction with a fan of her boyfriend Mac Miller that ended in said fan telling her boyf "Ariana is sexy as hell man I see you, I see you hitting that!!!" The backlash to the story was swift, with people crawling out of the mire to tell her that hey, maybe she deserves it because of how she dresses and and dances in her music videos. Rude, if you ask me and also Ariana, who hopped on the Twitter to defend herself.

Utilizing the tweetstorm, all A-list celebs' second-favorite form of social media expression, Grande said what a billion before her have said when a man fails to understand that what a woman choses to wear is not an invitation for sex, rudeness or general disrespect.
G/O Media may get a commission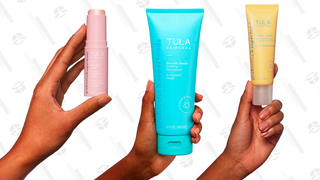 Did you hear that, people? "Women's choice." "It is not. an open. invitation." Heed the Grande. Read the Grande. Respect the Grande.
---
Hmm, okay, so even though T.I. and Tiny filed for divorce like, yesterday, maybe there's still hope for them, if you believe TMZ.
Here are three reasons why they might not be getting divorced, according to TMZ's source.
They've gotten together at least twice since filing for divorce and "things got romantic."

No one seems to trust each other.
T.I. spent time at Tiny's house for Christmas and "they got along great."
Is that the recipe for a divorce? Is that a recipe for reconciliation? Is that just the result of a 20 year relationship and its attendant emotions fizzling out into the ether in a jumbly mess? Are they going to get back together?? Will they cancel the divorce??!
Time, my pets. In good time.
[TMZ]
---
Happy birthday John Legend, your baby is extremely adorable.
[People]
---