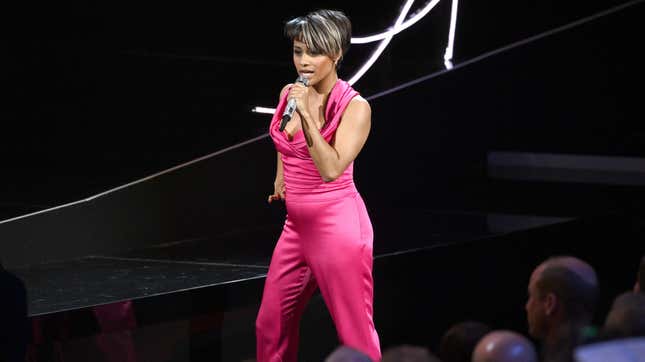 Over the long weekend, Academy Award winner Ariana Debose raised the curtain on the BAFTAs (the British Oscars, basically) in a way only a performer who's never mentally left their high school theater could—not with an overwrought monologue, no; with a musical number. If you've somehow managed to avoid the barrage of clips and commentary on social media, it was, dare I say, pretty damn baffling. I loved it.
The viral number was, in essence, a dedication to all of the female nominees and featured a rap that personally recognized each one. As Debose name-checked them, the camera delightfully panned to members of the audience for their reactions.
"Angela Bassett did the thing, Viola Davis my 'Woman King,' Blanchett Cate you're a genius, Jamie Lee you are all of us," she rhymed, audibly out of breath. While the reactions from the audience were all uniquely amusing—from Ana de Armas' utter boredom to Kerry Condon's genuine concern—my personal favorite came out of left field. Please watch this clip and pay close attention to Banshees of Inishirin breakout Barry Keoghan. You're welcome.
Naturally, some folks (those who simply can't recognize the work of an artiste) were mean, and Debose promptly deactivated her Twitter account. A producer for the awards show, too, has spoken out in her defense.
G/O Media may get a commission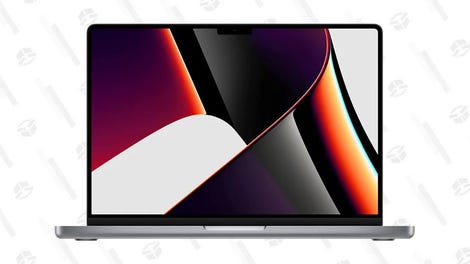 Save $300
2021 14" 1TB MacBook Pro
"The songs she was singing are very familiar songs, the room was clapping, and people were sort of dancing to the music," Nick Bullen told Variety. "That rap section in the middle, mentioning the women in the room, was because it's been a great year for women in film, and we wanted to celebrate that." I'm sorry, "sort of" dancing? Now that is crueler than anything I read on Twitter.
"There's a view that the BAFTAs have to be this slightly stiff, traditional British, middle-England messaging," Bullen continued. "American awards shows have much more razzmatazz, much more showbiz and perhaps a broader range of people being involved."
"We felt we're not about revolution, we're about evolution. Let's just evolve, let's just move forward with some gentle changes that start to lay out the stall of what this show should be and where we should be with it." Gentle change might be a bit of an understatement, but it does give me immense pleasure to visualize Prince William and Kate Middleton's reactions to Debose's rap.
What's being lost in the discourse, however, is that much of terminally online actually loved it. "ariana debose needs to reactivate twitter and seize this moment. she will have stans for LIFE after serving that level of camp to us on a platter," one person tweeted. "if ariana debose dropped merch that said 'angela bassett did the thing' i would buy a sweatshirt," said another.
Personally, I thought it was genius, and because I saw the 2022 Tony Awards where Debose deftly used a musical number as an excuse to sit right down on Andrew Garfield's lap, I'm not surprised the people—well, most of them—appreciated her bold, very un-British musical stylings.
While Debose hasn't formally acknowledged all the hullabaloo, she did comment on Evan Ross Katz's meme roundup of the performance on Instagram: "Honestly I love this."
That said, come back to Twitter, Ariana. We (the people who have TASTE) miss you.
---