Aretha Franklin, that classy, classy lady, is apparently tangentially involved, sorta, in who will play her in her much-anticipated upcoming biopic: "I just try to come up with the names I feel are going to best present this, who are the people that will best present my biopic and what I have in mind."
Two options—Audra McDonald and Jennifer Hudson—are suggested, and Aretha seems pretty into one of them:
The question where Audra is concerned is whether or not Audra can get into soul. That would be the question because she has the voice, she has a beautiful instrument. I just wonder how far she can get over into soul. Jennifer would come up with some good things.
Franklin also discusses potential collaborations with Adele: "I think it would be good. She's a very fine writer." (Please, God, let this happen) Plus one definite upcoming jam with Danger Mouse. You guys have heard the Xaphoon Jones mashup of "One Step Ahead" and "Empire State of Mind, right? No? Drop everything.
She also has a super-diplomatic answer to the hubbub surrounding Zoe Saldana's starring role in the upcoming Nina Simone biopic — which required darkening Saldana's skin and adding a prosthetic nose — rather than casting a darker-skinned actress who looked more like Simone. (Simone's daughter, a Broadway star, has voiced her dissatisfaction with the casting.)
G/O Media may get a commission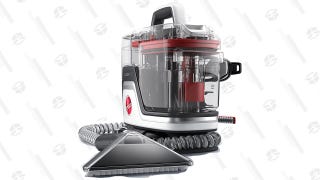 Save $10
Hoover CleanSlate Plus Carpet & Upholstery Cleaner
I did know Nina and I would have liked to see someone with a little more of a likeness and hopefully played the piano. But I don't know Ms. Saldana's work and Hollywood can do a lot of things in terms of changing your features and all of that.
'Q&A: Aretha Franklin talks biopic, Gospelfest' [Philly.com]