On Thursday, a federal appeals court unanimously refused to reinstate President Donald Trump's travel ban, the New York Times reports. Nice to see that for now, democracy is still working, isn't it?

Ana Gasteyer Satirizes the Girl Boss in 'American Auto'
The decision came from a panel of three judges from the United States Court of Appeals for the Ninth Circuit in San Francisco. The ruling against the Trump's administration's appeal honed in on "the narrow question of whether it should be blocked while courts consider its lawfulness." As a result of this ruling, citizens of the seven countries on Trump's list will be allowed to come to the United States with impunity, in spite of the executive order restricting them from doing—more proof that the rusty old system of checks and balances actually works.
CNN reports that the decision by the judges took into careful consideration both the national security Trump is so fond of screeching about as well as maintaining the values that make America great enough, if not perfectly fine:
"On the one hand, the public has a powerful interest in national security and in the ability of an elected president to enact policies," the judges wrote. "And on the other, the public also has an interest in free flow of travel, in avoiding separation of families, and in freedom from discrimination. We need not characterize the public interest more definitely than this... The emergency motion for a stay pending appeal is denied."
G/O Media may get a commission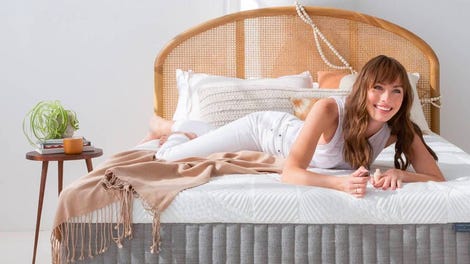 Sleep Sale
Sleep Sale - Brentwood Home
Naturally, the president weighed in on the decision with the all-caps subtlety of a child refusing to go to bed, shrieking threats down an empty, darkened hallway.
Nothing is more alarming than the leader of the free world wresting a cell phone from the hands of a trembling aide to peck out this fire tweet that disregards the fact that, if he'd been paying attention, this matter with which he is so concerned has been in various courts for at least a week now.
The Times reports that the decision will likely be turned over to the Supreme Court. As the court is "short-handed," a 4-4 decision would leave the ruling of the appeals court in place. Sad!