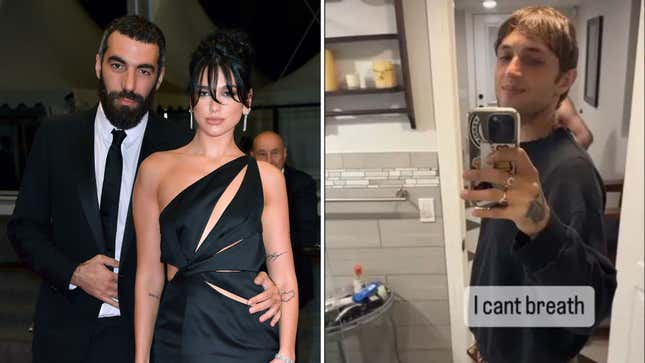 Anwar Hadid, best known as Dua Lipa's former boyfriend or the Hadid sisters' little brother, has some disturbing thoughts about his ex's new man and is currently sharing them on social media, because apparently, he is without shame—or friends.
Dirt Bag of the Week: Katharine McPhee
On Sunday, just two days after Lipa showed up on the red carpet at the Cannes Film Festival with French director Romain Gavras on her arm, the 23-year-old model and man scorned decided to threaten his ex's new boyfriend's life on social media.
"Trying to not to find and kill him," Hadid captioned a bizarre selfie on his story. He also thought to include a smiley face—you know, just to offset the menacing vibes. Then, on a mirror selfie, Hadid wrote: "I cant breath." I will ignore the unintentionally chortle-inducing misspelling to emphasize that this is ever-so-slightly concerning weirdo behavior. Unfortunately, the posts continued...and got stranger.
"I hate the way you say my name," Hadid wrote alongside a photo of his feet in motion. Was he running away from the fact that she's no longer saying his name at all? Or, perhaps he was fleeing the restraining order I would absolutely advise Lipa to file after seeing these posts. Finally, Hadid stopped the spree with a blurry photo of what appears to be a granite countertop and a cryptic: "Have fun."
While I imagine it might be difficult for Lipa to "have fun" while her ex is hinting about murdering her new boyfriend, it looks like she's certainly giving it a valiant effort. Over the weekend she put Gavras on the grid, hard-launching the very hot, 40-year-old filmmaker via a series of snaps from Cannes: "Hier soir à Cannes avec mon cœur," she captioned the post. Per Google translate, that means: "Last night in Cannes with my sweetheart." You're welcome!
Lipa also teased a single from the forthcoming Barbie movie soundtrack—on which she also makes a cameo. With regard to Hadid's antics, however, she's remained justifiably mum.