A group of anti-abortion "sidewalk counselors," represented by a conservative law firm, are suing Chicago over a 2009 law that created eight-foot "bubble zones" for people near the entrance to abortion clinics. The city says the zones mean that protesters can't get within eight feet of people entering the clinic without their permission. The anti-abortion groups say such laws were rendered unconstitutional by a 2014 Supreme Court ruling.
The Thomas More Society, a "religious liberty" law firm, claims that the bubble zone law is unevenly applied, making it hard for anti-abortion protesters to get close enough to patients to shove leaflets into their hands. They call the law "confusing" and say filing suit on behalf of the Pro-Life Action League "and sidewalk counselors who reach out to women who may feel they have no option other than to end their baby's life."
The complaint, as the Chicago Tribune reports, accuses the city, Mayor Rahm Emanuel, police Superintendent Eddie Johnson and Transportation Commissioner Rebekah Scheinfeld of "partnering with abortion vendors to violate the rights of those who wish to reach out to women seeking abortions."

"Pro-life advocates are being singled out," Thomas Olp told the paper, senior counsel at the Thomas More Society. "And their constitutional protections are being trampled." The lawsuit also claims that anti-abortion pamphlets are being taken away from patients by the police after the protesters get them into their hands.
The law that the Supreme Court struck down in 2014 was a Massachusetts ordinance that created a hard 35-foot buffer zone around abortion clinics. Brigid Leahy, Planned Parenthood of Illinois' public policy director, told WBEZ the Chicago law is different, in that it doesn't prevent protesters from entering the space around the clinics. Planned Parenthood argues that the eight-foot "no approach zone" is similar to one upheld by the Supreme Court in 2000. In that case, anti-abortion activists unsuccessfully challenged a Colorado statute that made it a crime for any person to ""knowingly approach" within 8 feet of another person, without that person's consent, in order to pass "a leaflet or handbill" or engage in "oral protest, education or counseling."
G/O Media may get a commission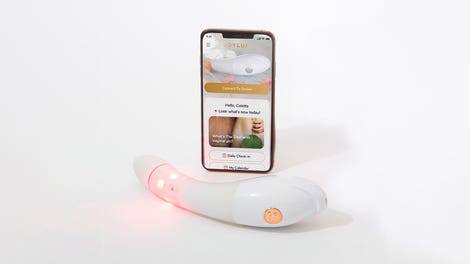 $50 Off
Joylux vFit Gold Device
The Thomas More Society claims anti-abortion activists have been subject to "several wrongful arrests" due to the law.