This morning, photographer Jason Lee Parry went on Good Morning America to explain just how it came to be that images he shot of a model named Hailey Clauson ended up printed and sold, without Clauson's knowledge or authorization, on t-shirts at Urban Outfitters. And to explain why he was taking crotch shots of a girl who'd celebrated her 15th birthday just days before in the first place. "She posed herself," said Parry. "She's a professional model."
Clauson's parents are suing Parry and Urban Outfitters for $28 million over the unauthorized use of the photos, which were taken in March, 2010, for an editorial in Germany's Qvest magazine. Clauson had already been modeling for two years when she took part in the shoot; 13 is in fact a typical age to start modeling.
The lawsuit makes a big deal of the way that Clauson is portrayed in the shoot — and I personally am of the opinion that it is undeniably inappropriate to sexualize a (barely) 15-year-old girl in the name of "fashion." Parry's excuses — "I didn't see it that way," he tells Good Morning America, "and I think if people do, it's kind of bad on them" — ring extremely hollow. It is however true that Hailey Clauson, like most models, has been portrayed in highly sexually charged ways practically since the day she entered the industry. One of her first ever test shoots, with a photographer named Zooey Grossman (a photographer I've actually worked with! a photographer who I remember as a really kind person!) featured such images as Clauson in a leotard and combat boots, lying on a couch, and Clauson in a bandeau top and Lolita glasses. As for the Parry shoot in particular, there is ample evidence that Clauson, her parents, and her agency seem to have approved of the final images, when they were for a non-commercial context: behind-the-scenes shots were published to the blog Clauson controls (that post, along with many others featuring her made to look risqué, was removed this weekend) and Parry says that Clauson's father was present for "the majority" of the shoot. Clauson's then-agency, Ford, added the shots to her portfolio. In short, the Clausons do not seem to have any issues with their daughter being portrayed in sexually charged ways — until those portrayals turned up on the t-shirt rack at Urban Outfitters, where they were making someone else a lot of money.
G/O Media may get a commission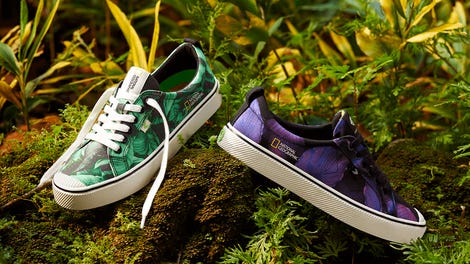 New New New
Cariuma + National Geographic
And the thing is, one can find room in one's heart and mind to condemn both the fact that this kind of child-sexualization is utterly normal within the modeling industry and the unauthorized use of these photos. The fact that her parents seem a tad hypocritical to be complaining of the sexualization of their daughter, oh, two-and-a-half years after Lolita glasses entered the picture doesn't mean that this lawsuit is groundless and that Parry and Urban Outfitters can continue profiting off these images because the sexualization horse has already bolted. The argument that because Hailey Clauson and her professional representatives agreed for her to be portrayed sexually in a magazine editorial means that she can be portrayed sexually anywhere, anytime, for the profit of others, is a little too close to "She was asking for it" for my tastes. Two pictures from the magazine are pictured here on the left and right, while the Urban Outfitters t-shirt is in the center. As exploitative as it can be for a group of adult professionals to purposefully photograph an adolescent as though she were a sex symbol, and to edit and disseminate those images globally, it is potentially just as exploitative — and as materially and personally damaging to someone who makes her living off her image — to take photographs that were taken for an editorial context and license them for commercial use. Hailey Clauson is a model. To take her image and put it to unauthorized commercial use is itself a form of exploitation. And the rights usages her agency at the time, Ford, negotiated with Parry prior to the shoot almost certainly expressly prohibited such a use.
Just how those pictures came to be on t-shirts is still unclear. This weekend Parry's "team" released a statement; it's vague. "Unbeknownst to Jason Lee Parry the image in question was selected by the t-shirt brand. He was also unaware of retail distribution of the t-shirt." Who furnished the images to the t-shirt brand? When? How did this happen without Parry's knowledge? The t-shirt manufacturer, Blood is the New Black, claims for its part that the images in question were "delivered to us...with the sole purpose of producing tee shirts and marketing them to our network of stores worldwide." Delivered by whom? With what assurances of the rights issues? And how were those assurances vetted? Blood is the New Black also is keen to protect its powerful global retail partner Urban Outfitters: "they must not be held responsible for this gross oversight." So far, Urban Outfitters, Clauson's parents, and Clauson's agencies — both Ford, which represented her at the time, and Next, where she resides currently — have remained silent.
Earlier: Teen Model's Parents Sue Photographer For Taking Sexy Pics