Anne Cole, a mainstay in the swimwear business, died on Tuesday in Beverly Hills at the age of 90. She had reportedly suffered a short illness.
Cole got her start in the industry working for her father Fred Cole, founder of designer swimwear company Cole of California, reports WWD. She eventually founded her own line, Anne Cole Swimwear, in 1982.
Under her label, she invented what would become her crowning achievement: the tankini. The combination tank top and bikini offered women unhappy with current bathing suit cuts (basically the bikini and the one-piece, the coolness of which is constantly oscillating) another option that would actually allow them to swim and move freely without worrying about something popping out.
When Cole released the tankini (the first instance findable in Nexis is in 1988, referencing a look with a ruffled skirt to "soften the leg"), other designers were also looking for an alternative to the bikini, which offered minimal coverage and support, especially for Baby Boomers who were beginning to have children. One dress designer, Carol Wior, invented something called a "Slimsuit," which, according to a 1988 Los Angeles Times article, was a "one-piece suit with a girdle-tight liner that squeezes one-half to three inches off the waist." Slimsuit sales exceeded $20 million in its second year.
By 1998, according to a Newsweek article from May of that year, other designers, including Isaac Mizrahi, J. Crew, and Michael Kors were offering standard tankinis for bikini-rejecting women; Gucci had designed one covered in crystals for over $2,400.

G/O Media may get a commission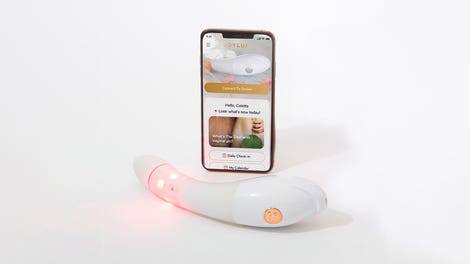 $50 Off
Joylux vFit Gold Device
"If you don't feel comfortable wearing a bikini, the tankini's an option that's sort of in between," Vogue fashion news director Katherine Betts is quoted as saying. "Vacation's not just about going to the beach or lying in the sun. People are rafting and playing volleyball and swimming. And they want to do them without worrying about losing their top."
In the '80s and early '90s, there was a coinciding boom of glamour suits—swimwear that provided the coverage of retro Hollywood style suits, and decorated with beads, sequins, or jewels. The idea was that the embellishments and draping were supposed to take attention away from the body's imperfections.
"We've tried to kill [glamour suits] with a stick, but it stays there," Cole said in a May 1989 interview with the St. Louis Post-Dispatch. "Women love glamour suits because swimwear should always be exciting...and falling back on color is not enough."
By the end of the '90s, tankinis were responsible for half of Cole's sales, and her company had become one of the top swimwear companies in the country. In a 1999 interview with the St. Louis Post-Dispatch, Cole credited them with having "revitalized the swimwear industry." (In a Newsday article that same year, Macy's fashion director predicted that if a woman would buy a new suit this season, it would be a tankini.) By then, Cole had added to her line the camkini (with a camisole top) and the tube-top bandikini.
"In my opinion, I'm not so sure I'm the one that invented it," she said to the Post-Dispatch, referencing the evening wear trend of crop tops and long dresses. Regardless, she continued: "I think it's going to settle in. I think we've discovered something. I think it's the first new swimwear look in a while."
And it stuck around—at least until the early 2000s, when an oddly fleshy Joanna was looking for a way to be stylish without attracting too much attention on her class trip to the Bethesda Aquatic Center.
Cole is survived by two brothers, her sister, and her godson.