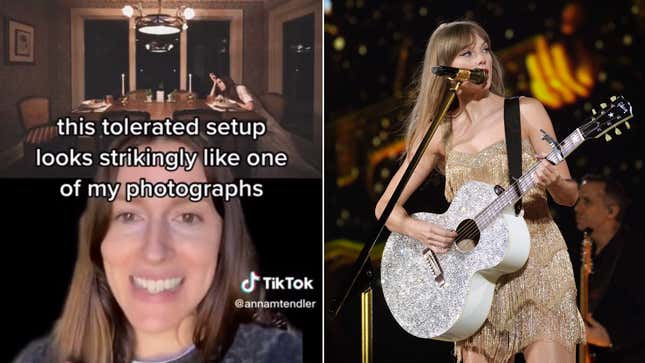 It seems at least one person wasn't particularly enthused by Taylor Swift's three-hour, 44-song Eras tour opener on Friday: Anna Marie Tendler, the multimedia artist formerly married to comedian John Mulaney. In a since-deleted TikTok posted over the weekend, Tendler singled out a moment during the concert when Swift sets a dining table on stage (just before singing "Tolerate It"), and pretty directly accused the singer of copying one of her self-portraits at a dining table.

Taylor Swift's Rep Thinks You Need to Calm Down About Her Private Jet
The backlash against Tendler for her lofty allegation came predictably quickly, prompting Tendler to backtrack almost immediately by claiming her TikTok was "satire" and setting her account to private as of Monday afternoon. Hmm! The internet has since devolved into a debate about the veracity of Tendler's little disclaimer, so let's dig in and unpack how we got here.
In Tendler's TikTok, she sounded convinced that the dining table concept used onstage at Swift's concert couldn't possibly exist without the influence of her art. "What the fukkkkk?" she captioned the TikTok. "Uh, Taylor, my girl, people who designed Taylor's tour—this 'Tolerate It' setup looks strikingly like one of my photographs in tone and in aesthetics," Tendler said in the video. She continued, "It doesn't totally feel like parallel thinking to me. I'm a small artist, [an] independent artist who is trying to make money and live off of my artwork. I don't know what to do about this. Maybe somebody can help me?"
Beyond its innate absurdity, the video tonally gave no hint of jest, irony, or satire. In fact, I'd argue her request for help and her description of herself as a "small" and "independent" artist up against a cultural behemoth like Swift made the video feel painfully serious. Social media users certainly interpreted it that way. "she can't seriously be accusing taylor swift of stealing her idea of setting a table," one person wrote in a now widely shared tweet, adding: "it obviously does not look like her photograph at all but sure piggyback off another artist to get your name out there." Another wrote that Tendler was "embarrassing" herself and told the artist, "You didn't invent dining tables as an aesthetic."
By Sunday evening, Tendler addressed the controversy by commenting on a TikTok that had stitched hers: "Hi! This was meant to be a joke," she wrote. "Most of my videos are jokes or satire! When I realized it wasn't landing as a joke I deleted it. Didn't mean offense."
Tendler's backtracking then, of course, sparked even more controversy. In response to her comment, one TikTok user replied: "Ahh the 'it was a joke' defense when the thing you meant seriously turned out to be horribly out of touch!" But others seem to believe Tendler: ARTnews noted that "the teary sentiment [of Tendler's TikTok] and the fact that there are very little similarities between the concert set and her photograph led some people to believe the video was made as a joke or in effort to attract controversy." And it's not exactly like courting attention on the internet is unheard of...
Whatever the truth of the matter, here's my attempt at an artsy metaphor: Let Tendler's TikTok and subsequent comment be a Rorschach test of sorts—we'll all see something different in it.