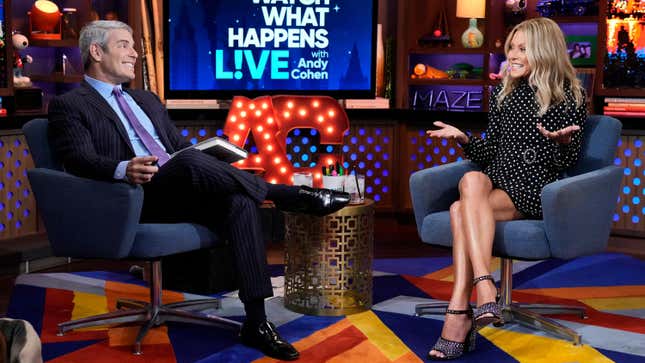 Live With Kelly and Mark host Kelly Ripa is no stranger to oversharing, but this time, her bestie and Bravo mogul Andy Cohen is the one causing the jump scare.
Raquel Leviss Told Us 'I'm Like, A Good Person' Just 48 Hours Before #Scandoval
Cohen was the guest on Wednesday's episode of Ripa's podcast, Let's Talk Off Camera. As old pals often do, they wandered into erotic territory, and Ripa revealed that Cohen had once sent her a photo of a stranger's hard dick while she was at work.
"So, my work iPad is open and I'm sitting here reading through my notes and [ABC's Live executive producer Michael Gelman] is over my shoulder trying to show me something," Ripa said. "And suddenly a completely erect penis pops up."
"Let's call him Bobby," Ripa continued. "It just says, 'Bobby's cock,' and it's, like, a text from Andy Cohen: 'Bobby's cock.'"

Who, then, is the pseudonymous Bobby of the mystery cock? Cohen explained on the podcast that he wanted to have a "sex romp" with a straight couple in Boston. Bobby, we'll have to assume, is the hetero man in the couple, who had sent a dick pic in preparation for the threesome, which never came to fruition.
Though I personally love when my closest friends describe in detail their latest sexual encounters over French 75s, I would be horrified to be on the receiving end of an unknown member, regardless of whether a best friend sent it or not. Dick pics are risky business enough as is—even more so in the middle of the work day. Like, I said: Jump scare!
And unfortunately, this is not the first time we're having to hear about Cohen's yearning to fuck a straight couple; he also committed it to print in his book, The Daddy Diaries.

"Mark [Consuelos, her husband] and I get very nervous with this stuff on your behalf," Ripa said on the podcast. "I'm constantly convinced that it's going to be a couple of serial killers."

Cohen, who is a single dad of 4-year-old son Benjamin and 1-year-old daughter Lucy, was spotted on dating apps Scruff and Grindr shortly after his son was born, and told Page Six that he was "on a lot of dating sites" one month after the birth of his daughter. "I really use them more as video games," he said.

Aside from the ethically sketchy distribution of a fuck buddy's erotic photos, I'm chalking this one up to two thirsty gals gabbing about dick—although I motion for these conversations to be kept private moving forward. I do not need to know any more about Cohen or Ripa's sex lives.