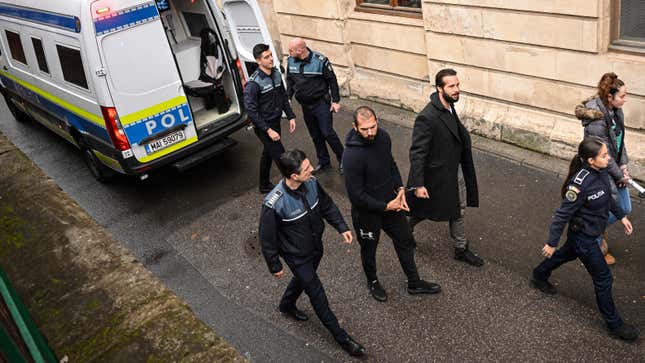 Andrew Tate and his brother Tristan Tate have been released from Romanian jail—but they have not been declared innocent yet. The pair will remain under house arrest for 30 days after an appellate court ruled in their favor, per media reports.
Taylor Lautner Doesn't Even Remember Saying 'Bella! Where the Hell Have You Been Loca?'
"They will be placed under house arrest while the investigation continues," a spokesperson for the brothers told TMZ. The brothers were taken into custody by Romanian authorities in December 2022 on charges of human trafficking, rape, and forming an organized crime group.
On Wednesday, the misogynist influencer posted a very cryptic, two-word tweet:
The pair, along with two Romanians, was arrested in December. They were repeatedly denied bail until Friday's decision.
Tate is a misogynist influencer who used to be a professional kickboxer. He gave up that to instead teach boys and men how to be terrible people. Tate's influence is so vast that teachers worry about Tate's teachings making it into the classroom via young boys' actions. He ran a high-priced social networking channel for misogynists-in-training that included trying to get them to coerce their wives and girlfriends into engaging in sex work. In the Romanian case, Tate is accused of "Romeo pimping," where men promise women a new life if they're steadfastly loyal.
He complained repeatedly about the squalid conditions of prison. In a newsletter to his supporters at the end of January, he said, "They are trying to break me. Thrown inside a cell without light. Cockroaches, lice, and bed bugs are my only friends at night."

The accused human trafficker also told his supporters that his jailers were on his side. "My guards know I am innocent. They know it is unjust. They see I will never break and respect my resolve," he wrote.
Here's video of the brothers leaving prison, with Tate curiously sporting more hair than he previously had.