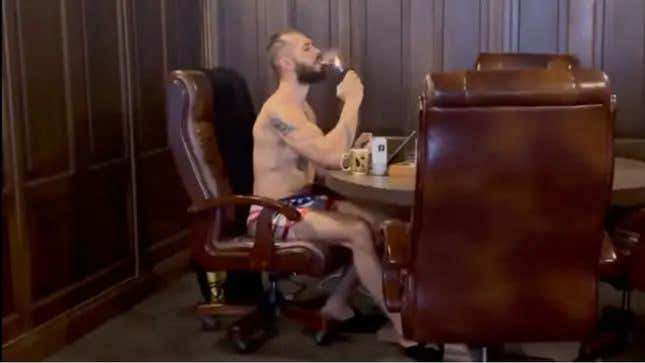 Well, it gives me absolutely no pleasure to report that I've just learned I have something in common with Andrew Tate. On Wednesday, the accused sex trafficker and misogynist influencer—outfitted only in a pair of silken patriotic briefs—tweeted a video of himself puffing on a cigar while singing along to Mariah Carey's "We Belong Together." The 50-second clip is squirm-inducing in its own right, but given that the sight also summons to mind memories of how I must have looked mourning my last heartbreak, my day is ruined.

Jasmin Savoy Brown Thought She'd Be the Killer in 'Scream V'I
Tate, who—along with his brother Tristan—is still being investigated for sex trafficking, appears to be making the absolute most of his 30-day house arrest. But prison time just might've soften the self-described ultimate alpha male just a little. Tate captioned the video:
I didn't smoke a cigar or hear a single song for 93 days.

Only the screams of sadness.

Now. We have Mariah.
Nice alliteration there, Andrew! Who knew preventative custody could turn one into Rupi Kaur?
You may recall that while was in prison, he wrote a poem about his **checks notes** "full head of hair." "I saw my reflection today and I barely recognized myself / A long beard, a full head of hair / and the stresses of battle show on my face."
In a reply to his own tweet on Wednesday, Tate added what I can only imagine will be another entry in his forthcoming "book of poetry" grift to finance his legal bills:
"The absolute BEST to ever do it.

Gods favourite.

Gorgeous and sounds like an actual angel.

Nobody has ever done it better.

Leona is under rated, Whitney is good.

But pure voice Mariah is Tip Top."
Tate added a live version of Carey performing "Without You" for emphasis, as if anyone is thinking more about whether Mariah's voice bests Whitney's as opposed to how bored this man must be to prompt music debates on main.
Next thing I know he'll be belting out Dolly Parton and slandering Tammy Wynette in his underwear, at which point I'd simply have to leave the internet and put myself on house arrest.