Fox News windbag Bill O'Reilly is currently embroiled in a sexual harassment scandal wherein at least five women have allegedly received payouts totaling $13 million over the past five years in exchange for their silence. Naturally, his next logical step is to take a vacation.

On Tuesday night's episode of The O'Reilly Factor, the host announced that he was going on vacation —preplanned, of course, and not at all related to the sexual harassment settlements he's yet to acknowledge directly in public. O'Reilly explained to viewers that this is all completely standard and normal behavior. "I grab some vacation, because it's spring and Easter time. Last fall, I booked a trip that should be terrific," he said.
He's not going to tell you where he's going, but if you'd like to wager a guest, feel free to enter the contest "Guess Where Bill is Going" on his personal website—what fun. A Fox News spokesperson confirmed to New York's Gabriel Sherman that he'd be back on April 24, leaving a good solid couple of weeks for them to figure out what to do with this shit sandwich they've been handed.
Sources also tell Sherman that there's a possibility that O'Reilly's Tuesday night show could be his last.
Lawyers for the law firm Paul, Weiss, hired last summer by 21st Century Fox to investigate Roger Ailes, are currently doing a "deep dive" investigation into O'Reilly's behavior. They're focused now on sexual harassment claims by O'Reilly guest Wendy Walsh after she reported her claims via the company's anonymous hotline.

Fox News co-president Bill Shine has been working hard to keep O'Reilly, sources said. But O'Reilly's future is in the hands of the Murdochs. "It's up to the family," the senior Fox News staffer said. The Murdochs are presently divided over how to handle it.
G/O Media may get a commission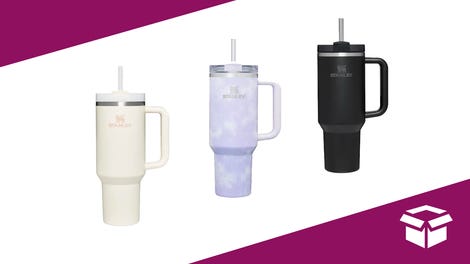 Up to 45% off
Stanley Cup Sale
O'Reilly's show has done exceedingly well in ratings since the news of the sexual harassment settlements broke last week, the Washington Post reports, rising 12 percent. He traffics in the kind of vile, incendiary bullshit you'd expect from a florid loofah enthusiast who has built a career being a mouthy, smug jerk. Add a whiff of scandal and you've got a ratings hit.
"If you can possibly take two good trips a year, it will refresh your life. We all need R&R. Put it to good use," he said to the studio audience Tuesday night—because everyone needs a break when dozens of advertisers pulled out of your show in a 24 hour period and you and your employer have been forced to pony up hush money so you can keep your job.