On Friday in Seattle, Daniel Ramirez Medina, a 23 year old immigrant from Mexico with no criminal record was arrested Friday by U.S. Immigrations and Customs Enforcement officers. Medina, who is protected under the Obama-era Deferred Action for Childhood Arrivals (DACA) program, is suing the federal government and arguing that his detainment is "unprecedented and unjustified."

Ramirez was arrested when ICE showed up to arrest his father in their Seattle home, as part of the mass deportation raids sweeping the country in response to President Donald Trump's executive order that allows for the arrest of undocumented immigrants who have been convicted of minor offenses and those who have never been convicted of a crime at all. Reuters reports that Medina's arrest is quite possibly the first of its kind under Trump's administration.
The New York Times reports that ICE had already targeted Ramirez's father for deportation, who asked to go back inside to tell his sons that he had been arrested. The lawsuit, which was filed in Seattle Monday, states that officials asked him if he was in the country legally. Despite telling the officers that he held a work permit under DACA, he was arrested anyway. Upon handing over his wallet, ICE saw his work permit and reportedly told him "It doesn't matter because you weren't born in this country." He was booked, fingerprinted and taken to a detention center in Tacoma.
According to the Los Angeles Times, he was arrested because of supposed gang affiliations. Attorneys for Ramirez denied these claims, saying instead that he was"repeatedly pressured by U.S. Immigration and Customs Enforcement agents to falsely admit affiliation."
Like everything else in the Trump administration, the matter of those protected under DACA and whether or not the program will remain intact is not clear. True to his nightmarish plan for the first 100 days in office, the administration has begun the work of making life in this country immensely difficult for immigrants. At various points in the campaign, he promised to repeal DACA, but in December he dialed it back, saying that he'd "work something out" for those protected. Given the absolute mess that his first 20 days in office have been, it's hard to believe that he'll make good on that vague promise.
G/O Media may get a commission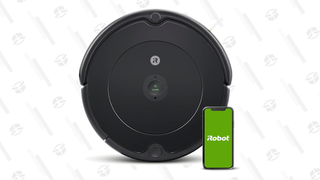 35% Off Black Friday Deal
iRobot Roomba 694 Robot Vacuum
In a statement from Mark Rosenbaum, a member of Public Counsel, the pro-bono law firm that helped file the suit in Seattle, he said that DACA created a "clear and reasonable expectation" for its recipients that they could live and work without fear of arrest or deportation. "Bait and switch sullies the integrity of our nation's core values," Rosenbaum said. Everything the Trump administration has done to date has sullied the integrity of our nation's core values; nothing they've done has proven otherwise. Hopefully this arrest is simply a mistake and not a dark harbinger for worse to come.