America's Next Top Model will no longer be goofy because Tyra Banks is no longer the lead of the show—that would be Rita Ora, a face recognizable to some and not others. But even in its new form, which debuted on Vh1 on Monday night, Top Model is still self-aggrandizing in a sad way. It wants to be more important than it is or may ever be. It wants to grow up and be fully formed and produce working superstars, not just be a factory for irrelevant models. The show wants to find the next star for the Kendall Jenner/Gigi Hadid generation, but that is something it probably won't do.

In recent months, the fashion world has openly debated whether Kendall and her ilk even qualify as supermodels. They walk runways and book designer shoots, but one could argue that their main job is to be popular, rather than to embody high fashion. In April, Rebecca Romijn described Kendall and Gigi as "not true supermodels," and Stephanie Seymour told Vanity Fair, "Supermodels are sort of the thing of the past." Seymour instead fit Kendall and Gigi with what she felt was a more accurate descriptor: "bitches of the moment." In response, Tyra intervened with a call for peace in June, knowing that she already had a plan in mind to try to create the next Gigi. In January, months after CW cancelled ANTM, the show's Vh1 move was announced, a new formation that happens to be all about making a millennial model in the likeness of you-know-whos.
"I'm not looking for a traditional model and I'm not looking for a social media model. I'm looking for both," Tyra tells the girls, at the top of the premiere. They're looking for a model who can represent: Business, Boss and Brand. Tyra specifically references squads and adds that creating her own "personal brand" has allowed her to step aside and let Rita Ora run the show. "I won't be here, but I will be watching you," Tyra warns. With this, the new Top Model feels instantly more serious and less unabashedly dumb, which is bittersweet. The great thing about the show's Tyra years—so bad that it was often good—was its foolish attempt to balance taking itself too seriously with not being serious enough, which somehow worked (and didn't...) precisely because Tyra can't help being silly.
During brief introductions, the aspiring models gush about Tyra as a boss and their dreams of appearing on the show. Already, it's clear that their idea of modeling has been filtered through reality TV and the very unreal world of what happens on Top Model. The host Rita Ora, described as a singer, actress, model and fashion icon (icon being a word I would dispute), wants to participate in creating a model-entrepreneur. To that end, one of the contestants, Tatiana, boasts that she has her own line of beauty care called Skin Butter. As another contestant notes of Rita: "She slays the game and she's our host," which says nothing and sounds like how Tyra probably pitched Rita Ora as the host.
"What I hope the girls learn is how to be a 25-year-old boss," says Ora. "I know how to have multiple business ventures." The other judges are the plus-size supermodel Ashley Graham ("She's gonna make them know that tits and a butt is okay," says Rita), Paper's creative officer Drew Elliott ("I am not here to be your best friend," he says) and celebrity stylist Law Roach (who's worked with Zendaya and Ariana Grande). They all seem capable of delivering incisive commentary, though no one can quite replace Kelly Cutrone or noted fashion photographer Nigel Barker.
G/O Media may get a commission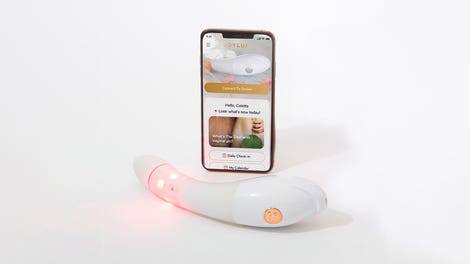 $50 Off
Joylux vFit Gold Device
To test the models' skills, the first challenge is to go on a Go See (a designer meet-and-greet-and-walk) with designer LaQuan Smith, in what amounts to a largely boring scene. Then on the van ride afterward, the drama happens. A model named Quei trashes other contestants in what seems like an early effort to occupy the bully role most reality shows play up—"I'm gonna give you some water and I want you to nourish those Chia Pets on your eyebrows," Quei tells Courtney, a model with thick brows. The joke not only doesn't land, it feels fabricated and like something Top Model 2.0 doesn't want to be about. Later, during the audition part of the show when the models appear in front of the judges to tell their backstories, we learn that Quei is a trans woman. Normally, we'd expect Tyra to choose her off the strength of social awareness and Quei's expected controversy. Instead, Quei gets cut once the field is narrowed down to 14 contestants, perhaps a sign of the show's ethos of being a career-launcher for starter models. During the auditions, Elliott tells a model who looks strikingly similar to Gigi Hadid: "I'm a bit nervous about your seriousness."
The Top-Model-est part of the premiere comes at the end. As seen in the clip above, the cuts happen in what the show wants to be seen as a dramatic and ruthless fashion. The girls check into a VIP party and if their name isn't on the list, they're out. It's a brilliant way to eliminate losers, though faithful Top Model viewers might get the sense that the scene could've been played up wackier. "What if the bouncer was on stilts?" is something Tyra would have pitched, for example, if only she were there.
After being cut, Starr breaks down because this means she'll be separated from Kyle, a fellow model she'd been crushing on for all of 24 hours. Based on the premiere alone, the show already feels like a better produced, refined version of Top Model. It'll make for fine television, though whether it can be an actual American Idol for models is unlikely. Equally doubtful is that the show will achieve its goal of producing the next Gigi or Kendall, though it will at least create a brand for one person, and that's Rita Ora.