On Tuesday night, AMC aired Episode 4 of the mini-series The Night Manager, a British spy thriller based off the novel by John le Carré and starring the very handsome Tom Hiddleston. Only, something was missing. (Light spoilers to come, and they clearly involve butts.)
Ana Gasteyer Satirizes the Girl Boss in 'American Auto'
The New York Post reports that when this particular episode of The Night Manager aired in the U.K. on the BBC, it contained a mid-sex-scene shot of Hiddleston's flexing butt that caused a mild uproar in the U.K. and lots of enthusiastic #Hiddlesbum tweeting. Appointment television!
But when the episode finally arrived on American television, fans were very surprised and deeply disappointed to see that there was nothing to see.
G/O Media may get a commission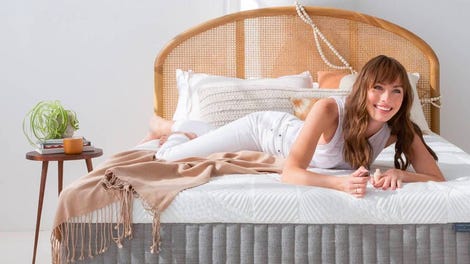 Sleep Sale
Sleep Sale - Brentwood Home
The Post spoke to one Hiddleston enthusiast, who said:
Jenna Harris, 23, who runs a Tom Hiddleston fan site out of Northern Ireland, told The Post that the reaction to the bum-baring scene was "absolutely mental" in the UK and that "many a Tom related Tumblr blog had a meltdown."

"I'm surprised by this and also quite irritated, maybe even angry," Harris says of the scene being edited for US television. "Considering the fact 'TNM' airs on AMC, a network that also has 'The Walking Dead,' known for its brains, guts and blood, it's confusing to me that American television is editing out a 60 second scene (that also focuses on their faces) of a pair of buttocks."
God knows what sort of Byzantine basic-cable rules and customs went into the cuts; the longstanding American consensus seems to be it's much safer for little Johnny to catch sight of some literally rotting corpse bite somebody's arm off than a man showing a woman a good time. But you can watch the scene—complete with butt cheeks in all their bare glory, which Hiddleston is very supportive of—on AMC's website. It's really something.
---