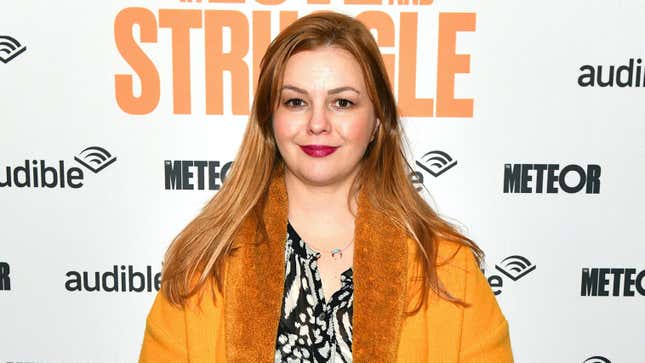 In a new op-ed published by The New York Times on Saturday, actress Amber Tamblyn calls on readers to listen to Britney Spears, who has recently taken legal action in an attempt to dissolve the conservatorship that has inhibited her physical, economic, and maternal autonomy for over a decade.

Britney Spears Escapes Family Drama By Going to First Bar
"Britney Spears is not the only woman in the public eye who has long been privately controlled, but she may be one of the first women in a very long time to give such a damning public record of it," Tamblyn writes. "As someone who has experienced a small taste of what Britney has gone through, I know that what she has done is a profoundly radical act—one that I hope will ripple through the bodies and bank accounts of women across industries for generations to come."
Thirty-eight-year-old Tamblyn began acting at age 10, becoming her family's primary earner after starring in hit TV show Joan of Arcadia at 21.
"By speaking up, she has reminded us that our autonomy, both bodily and fiscal, is worth fighting for," she continued. "We can't unknow her truth now—as told in her own voice, not a voice that's been written for her, curated for her, or projected onto her. Now, it's really up to us to listen."
---
Kevin Federline, Spears' ex-husband and father of her two kids, also weighed in on her conservatorship by way of an attorney, agreeing that it should be "dissolved" if that's what would make her "happy and healthy." [Entertainment Tonight]
Did we ever figure out if it was Prince Charles or Prince William who said that racist stuff about Meghan Markle and Prince Harry's son before he was born? Anyway, William reportedly referred to Meghan as "that bloody woman" after Prince Philip's funeral. [Page Six]
Wendy Williams told Cynthia Bailey to her face that "it should be you" who leaves Real Housewives of Atlanta, but it honestly sounds kinda caring? Like: "I don't want to see you fight, I don't want to see you get divorced, like I think it's time." That's nice! [Page Six]
"Though I don't have a degree, I have a PhD in Ms. Ross," says Angelica Ross. "I believe that other people can have a PhD level in understanding themselves. You don't have to think, 'I don't have a bachelor's degree, I don't have this certification' or whatnot, you can curate your own learning that is specific to who you are, to what your passions are, to whatever transitional phase you are in life." [Pink News]
Losing my mind at Us Weekly calling Travis Barker "the Meet the Barkers alum." [Us Weekly]
Take it away, Wendy: