Many people would watch Amber Rose being Amber Rose for hours. But a talk show has its limits. At 11 pm on Friday night, the designated graveyard shift, The Amber Rose Show premiered in a time slot in which it's nearly impossible to gain traction. Amber is hugely likable, with a disarming ability to pry information out of people through deceptively direct means. She's one of the few women who've effectively ditched and flipped the famous-by-association girlfriend label into a successful brand, not to mention a feminist platform. But an Amber Rose talk show might be something that's greater in theory than execution.
That's fine, because the vast majority of people, famous or not, could never pull off a talk show. In the age of self-awareness, Amber is likely the first of her very specific associative breed of famous people (a celebrity's non-famous ex) to land her own show. The feat isn't that uncommon among celebrities, though, if you remember any of these now-defunct talk shows: Chevy Chase, Tempestt Bledsoe, Carnie Wilson, Megan Mullally, Wanda Sykes, Bethenny Frankel, Queen Latifah.
Most recently, Kris Jenner and Khloe Kardashian tried the look on and failed. Like others, Amber's show banks on the idea of her having a built-in set of dedicated viewers to support her brand of dirt, raunch and sex talk. She would be the one to say, "I'm a ho," just a minute into her premiere episode. She would be the one to make a dude put a condom on a banana in a man-on-the-street segment. Later, in a sit-down conversation with French Montana, the two address dating rumors and Amber gets French Montana to admit to having a threesome with a guy involved. The chat is followed with a video segment where Amber searches for dating prospects for French on the streets. Just a typical Friday night.
G/O Media may get a commission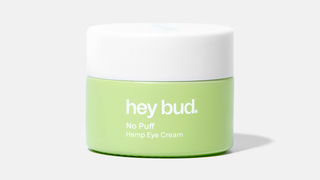 15% off
Hey Bud - No Puff Hemp Eye Cream
This is all supposed to feel like what Amber just does around her real friends, but through the reflection of TV in a structured format. That idea doesn't quite come across in episode one, which tries to fit many stories and segments into 30 minutes: hot topics, sex and relationship advice (Amber calls herself "Bad Bitch Hitch"), a celebrity interview, a man on the street video and a parody with her production partner Dr. Phil.
The undercurrent throughout—what's implied in all the jokes, self-mockery and break-out videos—is Amber's association with fame, the public perception of her as a so-called gold-digger and her position as a cool straight-talk sex expert.

In most cases, Rose is magnetic. In talk show form, much of the delivery feels canned, particularly the headline review at the top of the show. The draw of celebrity talk shows is in hearing that person's inside take on the world he/she so exclusively lives in—like how Khloe Kardashian presented her show as a dinner gathering with famous people.
"You never know which one of my celebrity friends are gonna stop by," Amber similarly tells her audience. But as we find happens whenever celebrity hosts gossip about other celebrities, there's a safe distance to be maintained from their peers at the sacrifice of any enlightenment or entertainment.
Amber can't be as insider as you'd like her to be, because she lives this life too, which means the jokes are safe and, from Amber's mouth, hardly risqué. In fact, Wendy Williams is that rare breed of host who manages to make hot topics feel genuine. Here, it's obvious Amber is reading the jokes.
On the topic of Iggy Azalea's breakup with Nick Young, Amber says, "Every time I follow my heart I end up taking a bat to a man's car" and then references Beyoncé. She talks about Justin Bieber's lonely tweets ("Just call me. I like 'em young.") and Taylor Swift's Fourth of July get-together ("Can i please come next year to your party?") and it's all sweet and expected.
Where Amber comes the most alive is in the segments involving sex and relationships, which aren't necessarily reliant on our knowledge of her as a powerfully sexual public figure. She just seems like an entertaining person to go to for non-academic advice. (Of course, it was essential that this segment be co-hosted by a professional). One woman asks how to handle dating a guy with a small penis. Amber tells her to leave him. Another audience member is in a long distance relationship and wants sexting tips. "Don't ever ever ever send nudes. Just keep it all verbal," says Amber. "It actually stimulates the mind more." A Twitter user asks Amber if she should be concerned with STDs after getting a condom stuck. Amber says the problem is with guys falsely using magnums. "Hopefully it's just chlamydia," says Amber. "Yeah girl go to the doctor."
This interaction with the audience is what feels the most like Amber. But with so many ideas tossed at the wall in a matter of minutes, there's no time to get beyond the surface. Familiarity, both for the host and the viewer, is essential to building a popular talk show. If there's any hope saving this one, the best bet would be to make it all about sex—make it a Loveline for the Amber era—with her as the vehicle for painfully honest and modern conversations about love and relationships, leaving the celebrity element out and adding rotating professionals. Close to midnight seems like the perfect time to lose the scripted approach and let Amber be Amber.
---
Images via Vh1