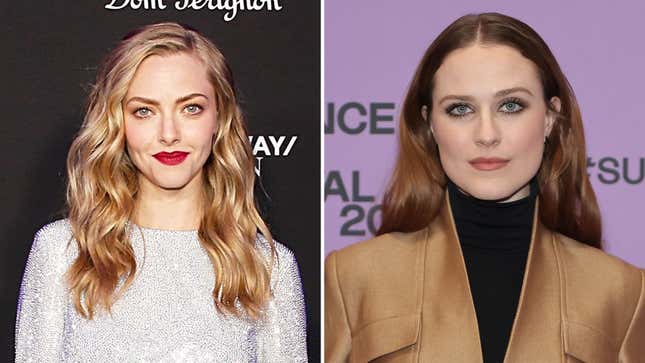 At long last, our national nightmare is over! It's been three grueling days since we learned that Amanda Seyfried missed the Golden Globes—and the chance to accept her award for best actress in a limited series for The Dropout—because she was working on a musical. "A what?!" we all shrieked in unison, envisioning "Mamma Mia Three-a!" coming to the screen next summer. For three long days, we were forced into the dark corners of our minds, left wondering what project she could possibly be working on. Today we know the answer: Amanda Seyfried is workshopping Thelma and Louise…the musical! *drives car excitedly off a cliff*
On Wednesday, the day following the Globes, Seyfried confirmed in an Instagram post that she was indeed knee-deep in new work and that it was "magic and its musical."
"I'm finally getting to do something that I've never really done," she continued, which does make me wonder what she thought was happening in the Mamma Mia movies, but whatever, we must move on. Today, an insider told Variety that "Seyfried is involved with a workshop on the musical version of Thelma & Louise." But it gets better; Reportedly, Evan Rachel Wood has joined Seyfried in the project.
It has yet to be revealed who will play Thelma and who will be cast as Louise. I'd love to see Seyfried cast as Thelma, originally played by Geena Davis, and then have Wood reprise Susan Sarandon's role as Louise. But I would also take a version where Seyfriend and Wood are simply just waitresses at the honky tonk the women stop at before they kill Harlan. I feel deep in my bones that Austin Butler is going to be cast in Brad Pitt's part as J.D—Thelma's younger lover revealed to be an armed robber on the lam. Maybe we can get Pitt in there as Thelma's abusive husband Darryl.
It isn't entirely clear if this adaptation will be for stage or screen, but Seyfried saying she was in NYC working on the project suggests the former. The movie's original screenwriter Callie Khouri, who won Best Screenplay at the Oscars for the film in 1992, is also attached to this musical adaptation. More recently, Khouri is known for creating Nashville, a show near and dear to my heart. Hailey Feiffer, who wrote Dear Edward, is attached to write the book, and Trip Cullman, who directed Six Degrees of Separation, is reportedly directing the project.
Writing the score is Neko Case, which sent my eyes rolling in ecstasy back into my head. Her music, nostalgic and grainy, is the perfect accompaniment to this story. The New York Times once described her as being a "vocal tornado." What a fantastic choice.
This is wonderful news for everyone involved. Seyfried and Wood have work booked for the next few months. My will to live through 2023 has been renewed. There's at least one hot young man romancing an older woman guaranteed to grace a stage or screen in the near future. All is well.