Amanda Seyfried is spreadin' gospel about the way (some) people's vaginas and hearts fall in love, e.g. no matter what Hollywood rom-coms say, the My Best Friend's Wedding theorem doesn't generally play out in real life.
In the August issue of Elle, she informs us: "Everybody I've dated I've been sexually attracted to immediately. Sparks don't grow — your vagina doesn't become more inclined to wanting someone just because you're around them." Exceptions to this, sure. But for the most part, listen to the lady, Ed Sheeran.
And on her ex-boyfriend Dominic Cooper: "We love each other… He'll always be in my life regardless of what his girlfriends or future wife think. And I would never date a guy not okay with our relationship." You know what they say, the people who do horrible ABBA movies together stay together. [Elle, NYDN]
---
G/O Media may get a commission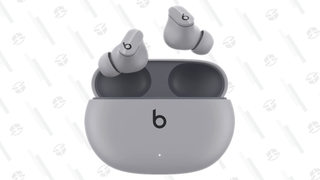 Distressed Suri Cruise told a crowd of paparazzi surrounding her and mom Katie Holmes' car to go away and let them get in, and as they departed one of the cameramen called her a "brat" and a "bitch," because the world makes sense. She's SEVEN, mind.
As Cruise is getting into the vehicle, an off-camera voice can be heard yelling, "Bye, Suri, you little brat!"
A second man is heard reprimanding the first man and defending Cruise, at which point the original guy calls Cruise a "b*tch."
Good job, everyone. [Gossip Cop]
---
Part of the reason that Leah Remini left Scientology was that they began interrogating her repeatedly (in song, by Beck) after she started poking around about the whereabouts of Church leader David Miscavige's wife Shelly — who has not been seen in public since 2006 — and eventually threatened to call the cops. Pretty audacious, even for the sassy Rego Park wife of UPS driver Kevin James. She also thanks us for our support while she breaks from the Church. Welcome back to Earth, Leah Remini!
Also, time is a piece of wax falling on a termite that's choking on the splinters and everything, but 2006 was a long time ago, so where the fuck is Shelly Miscavige? [Page Six, People]
---
One Direction tofu nugget Harry Styles puked onstage in Pittsburgh and now 14-year-old Pennsylvania native Talia Greeble is wearing some of it in a vial around her neck. [E!]
---