It's possible that your fevered collective fan dreams have come true—Taylor Swift and Ed Sheeran might be tenderly and respectfully fornicating. Apparently Sheeran was in T-Swizzle's hotel room before the Brit Awards until 4 AM, when Sheeran finally left looking "very pleased with himself" (according to some creep hanging outside in a tree like a bat who watched him leave her room, I guess). Rumor has it that the two, self-professed good friends, dated back in in March but broke up to focus on their careers, but now she's giving it another shot.
A source tells The Sun, "Harry [Styles] had that irresistible bad boy thing but Taylor has realised she would rather give it a go with a guy who can make her happy on a different level." Oof. Everyone's dream: to be the sweet, reliable fallback when the person you like is done having smokin' hot, Richter-scale intercourse with a total douche. On the bright side, Taylor, congratulations on your first known ginger! It's hard to go back. [Daily Mail, Standard UK]
---
Kristen Stewart has been getting mad texts from her former partner in Crotchgrindingbridgegate, Rupert Sanders, since his wife Liberty Ross officially filed for divorce. While responding to these texts would clearly be an awesome idea, Stewart has been opting not to."She wants nothing to do with him. [...] She has no idea what's going on with Robert [Pattinson] at the moment." Gonna hazard a guess and say he's... skulking. Somewhere. [Radar Online]
---
G/O Media may get a commission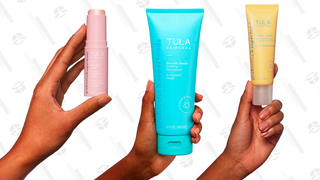 Connie Britton! Have a huge glass of pinot with me Tami Taylor-style and teach me how to be wise. She covers More in March and talks about being a single mom to 2-year-old Yoby: "The schedule is insane to the point where I lose a lot of sleep at night worrying about how little time I have to sleep and mostly what little time I have to be with my son. [...] Being a single mom is challenging, but never in a million years would that have stopped me. You get an idea in your head and you're going to do it. People can tell you how hard marriage is or how hard it is to birth a baby, but we do these things. We want the journey of that." [People]
---
Liam Gallagher, Oasis frontman and noted dickhead, negged The Wire star Idris Elba about his hat for no reason.
"Liam was in full rock'n'roll swagger mode. He bowled up to the party after midnight and made his presence felt pretty quickly.

Then he had a few words with Idris, poking fun at his bobble hat among other things. Idris looked like he was going to flatten him - they were on completely different wavelengths.

"They were toe-to-toe at one point. Neither of them backed down. Idris was in a good mood, so left it, which was probably for the best. Liam left soon after."
Yo Wonderwall, step off Stringer Bell. Thank you. [MTV UK]
---